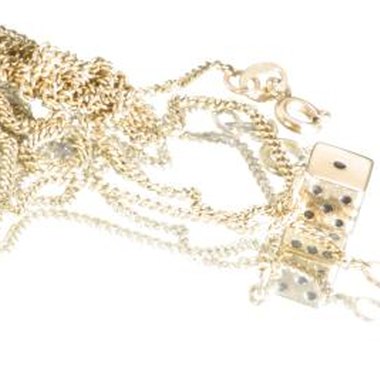 Handmade cards are a wonderful and personalized way to show someone how much you care. Instead of purchasing a blase card from the store, craft one using basic household and crafting materials. And for the birthday girl who adores bling, design a jewelry-themed card that will be sure to create a sparkle in her eyes.
Necklace Card
A clever way to present a jewelry gift is to display it on the card. Fold a piece of card stock in half to make a card. Draw the outline of a person's face, neck and upper body. Use a needle to punch a hole at both sides of the neck. Insert the ends of the necklace through both holes. Bunch up the ends inside the card so that it is centered on the front and tape in place.
Bling Ring Card
Make a simple bling ring card using rhinestones or sequins. Fold a piece of card stock in half to make a card. On the front, draw a gold or silver band. Use glitter, markers, glitter paint or tape aluminum foil to the card. Draw a gemstone shape on the band. Glue a rhinestone or sequins into the gemstone shape. Write: "Wishing you the sparkliest and shiniest birthday ever!" beneath the ring.
Pearl Card
Use fake craft pearls to decorate any card. Fold a piece of card stock in half. Draw a woman's neckline on the card and glue a necklace of pearls on it. Or use pearls as decorative accents for bows, flowers or little critters. For an under-the-sea themed card, draw an oyster at a bottom corner of the cover. Glue a pearl into the bed. Color the rest of the card blue and draw in aquatic life, such as starfish and crabs. Write "Hoping your birthday is one in a million."
Gemstone Birthday Cake
Use gemstones to make a sparkly and bejeweled birthday cake-themed card. Fold a piece of card stock in half into a card shape. Draw a tiered cake on the cover, using a pen or markers. Fill in the cake shape with different colored gemstones. Use pieces of foil or a glitter marker to make a shiny cake stand. On top of the cake, draw in candles. For each flame, glue a yellow or orange sequin. Write "You deserve a gem of a birthday."
Photo Credits
Hemera Technologies/AbleStock.com/Getty Images