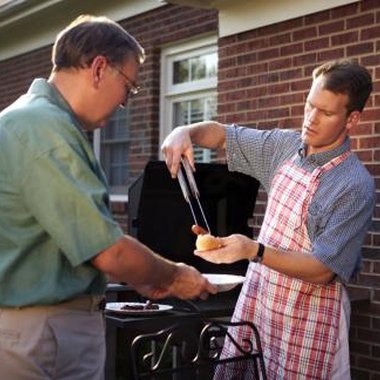 A barbecue baby shower is a way to get away from cutesy, already-been-done themes. Heading outside for the shower allows you to make the event into a real party that everyone close to the mother -- even male guests -- can enjoy. If you're throwing a barbecue baby shower, it's sure to be a big hit if you plan carefully and incorporate some creative ideas.
Venue
As long as you have a big outdoor space, you can hold your barbecue baby shower virtually anywhere. If you and your friends don't have a big yard, head to the local park -- many have public grills and barbecue pits. You could also have the shower at a nearby lake or set up the party on the beach to turn it into a festive, summery event. If the weather is a little cool or rainy, check out an outdoor pavilion -- you'll still have plenty of room and fresh air for your guests.
Menu
You can't have a barbecue without pulled pork sandwiches and potato salad, but don't forget about the "baby" element of your celebration. Spread a baby blanket on the food table (cover it with clear plastic if you want to reuse it). Buy miniature hamburger buns and make baby barbecue burgers. Fill baby bottles with barbecue sauce. Use pastel-colored bowls for side items such as baked beans, pasta salad and a variety of green salads. For bread, shape dough into baby rattles and bottles and bake. Provide a variety of summery beverages, such as cold beer, sangria and fruit juice.
Activities
If you're inviting male guests to the shower, plan activities that both sexes will genuinely enjoy. Supply baby strollers, put a doll inside each and have a race. Let couples practice keeping their water from breaking with a water balloon toss. When the balloon breaks, the man has to carry his wife to the "hospital" for another water-filled balloon and try again. You could also provide plain white aprons for the men and "baby" T-shirts for the women. Provide fabric paint and split up the couples. The women create a personalized apron for their husbands and the men do the same with the T- for their wives. If there are only female guests, provide just the T-shirts and let guests make a personalized shirt for the new mom.
Party Favors
Let the guests know how much you appreciated their attendance. Pass out bottles of gourmet barbecue sauce tied with a blue or pink ribbon (depending on the baby's sex). Or, give each guest a couple of lottery scratch-off tickets with a note that says "Hope you get as lucky as we did!" You could also give your guests a box of chocolate cigars with a note that reads "Thanks to you, our baby shower was smokin'! Thanks for coming!"
Photo Credits
Thinkstock Images/Comstock/Getty Images