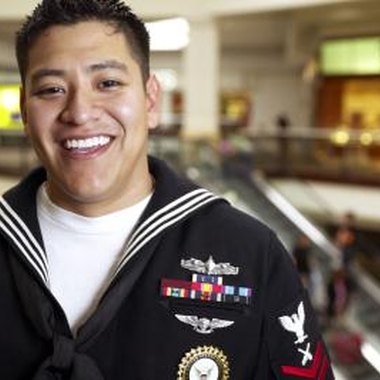 When men and women enlisted in the Navy deploy to sea for active service, friends and family often throw an "anchors aweigh" party as a farewell celebration. These parties can be thrown at home, at a park, in a beach setting, in a restaurant or at a rented party venue. When planning your anchors aweigh party, keep the theme tied to the Navy and incorporate images of anchors, boats, nautical rope and sailor hats to set the scene.
Special Photos
If you are throwing a large party with many guests, design a photo backdrop to use during the festivities. To make a Navy-inspired backdrop, paint a beach and ocean scene on an old sheet. Paint a Navy ship on the horizon of your ocean, and include a couple of palm trees in the forefront on the beach portion. Hang the sheet on a wall in your party location, and purchase a foam rock and plastic toy anchor to place in front of the painting to give it a more three-dimensional quality. During your party take pictures of guests standing either individually, or in couples or groups, in front of your backdrop.
Activities
Engage party guests by having them play games. These games should be centered around the nautical theme, and may include bingo with the names of destinations your guest of honor will be sailing near, a trivia contest about your guest of honor's history in the Navy, and "tug of war" outside using thick nautical rope. If you're pregnant or have recently given birth, and your husband or boyfriend is being deployed, supply guests with white onesies and art supplies such as silver or navy blue glitter, puff paint and fabric markers. Have your guests decorate their onesies for your baby to commemorate the celebration.
Party Favors
Liven the spirit of your anchors aweigh party by passing out nautical-inspired party favors to guests. These party favors can be bought online or in party stores, and may include nautical wine glass charms, small keepsake glass vials filled with sand and small seashells, nautical luggage tags in the shapes of boats or anchors, and anchor confetti that can be thrown during festivities. Homemade party favors to decorate place settings can include small mesh bags full of red, white and blue candies.
Food and Music
Add to your party's mood by making your food festive. Offer cupcakes with white frosting and a small edible anchor or toothpick American flag on each. Bake a cake in the shape of an anchor or sea creature, such as a crab. Provide clam chowder and oyster crackers, blue gelatin cups, oysters on the half shell and shrimp cocktail. Display all your food around a sailboat centerpiece on a table. Cover this table with a navy blue tablecloth, and use white china or disposable plates. For music, choose songs that directly relate to the Navy or nautical theme, such as Weezer's "Islands in the Stream," The Beatles' "Yellow Submarine," Crosby Stills and Nash's "Southern Cross," Diane Renay's "Kiss me Sailor" and "Soldier Boy."
Photo Credits
Creatas/Creatas/Getty Images