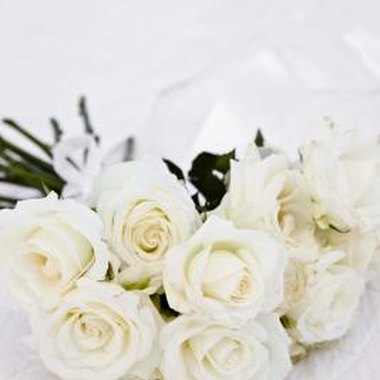 Popularized by rapper Sean "Diddy" Combs, all-white themed parties are elegant events that require guests to wear only crisp shades of white. The color white typically symbolizes purity and cleanliness. It can be used as the basis for an all-white soiree, which typically includes an array of white or off-white decorations, furniture, food and drinks. All-white parties can be held at any time of year and in a variety of venues.
Venue and Guest Attire
All-white parties are perfect for spring or summer, particularly around Labor Day, but they can be held in winter, as well. The beach, backyard patio or garden terrace all make ideal venues for a summer all-white party. Large ballrooms or mansions are suitable for winter parties. The venue and time of day you host your party will determine the dress code, which can be casual or formal. Casual attire can include white collared shirts and linen pants. Formal attire might include all white tuxedos, white cocktail dresses and silver or diamond jewelry.
Decorations
If possible, host your party underneath a white tent or canopy. White fabrics, such as tablecloths and drapes, make the all-white party venue both classy and whimsical. White pillar and floating candles and white paper bags with tea lights make for excellent mood lighting. White umbrellas, seashells and glass bottles and bowls can also be used for decoration at an all-white party. Flowers are very important; white roses, calla lilies, carnations and hydrangeas are ideal for all-white parties.
Furniture
Furniture at your all-white party can include white outdoor patio furniture, such as wood or wicker chairs and tables. You can serve food and beverages on dark wood dining or coffee tables for a more sophisticated look. White pillows can be placed on the furniture to make the venue more comfortable and inviting. Placing straw mats on the flooring or sand can add to a more relaxed, beach-like theme of a casual all-white party.
Food and Drinks
Foods served at an all-white party can include white foods, as well as other foods that are lighter in color. An assortment of white cheeses or white bean dip with pita chips can be served as appetizers. Main dishes can include chicken, pork, turkey and risotto. Side dishes might include white corn or cauliflower. Desserts for an all-white party may include coconut cake with white butter-cream frosting, angel food cake, white chocolate-covered strawberries and vanilla ice cream. White wine, champagne, martinis, white Russians and mojitos are excellent choices for refreshing all-white party beverages.
Photo Credits
Jupiterimages/Polka Dot/Getty Images