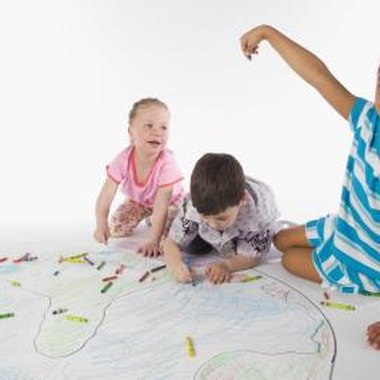 Children arrive at birthday parties at different times. An icebreaker craft allows you to get each child involved in the party on arrival. Four-year-olds have short attention spans and are all in different places developmentally, so icebreaker crafts for 4-year-olds should be open-ended and children with various skill levels should be able to complete them.
Favor Bags
Set up a station with brown paper lunch bags, stickers, crayons and markers, and ask each child to decorate a bag when she comes in. Have each bag labeled with each child's name ahead of time, as not all 4-year-olds will be able to write their names. The bags can be used to hold the prizes and favors children accumulate during the party.
Picture Frames
Take a picture of each child when he arrives at the party. Have a table set up with craft-foam picture frames, decorations and glue so children can decorate the frames as they wish. If you are concerned about glue making a mess, use party-related stickers. Write each child's name on the back of the frame he decorates. Print out the pictures after all the guests have arrived and glue each child's picture into the frame he decorated. Glue a small piece of sheet magnet on the back of the frame so the photo can be displayed on the refrigerator at the child's home.
Sock Puppets
Have children make simple sock puppets by drawing faces on old socks. If you don't have a supply of old socks, buy a multi-pack of white crew socks -- child-sized socks will work best for small hands. As each guest completes her puppet, have her place it on her hand. Have the children talk to each other through their puppets for the first party activity.
Place Cards
Fold a 3-by-5 or 4-by-6 piece of cardstock in half lengthwise. Write each child's name on one side of the place card. When a guest arrives, ask him to decorate his card with crayons or markers. If the party has a theme, give the child some related stickers for his card. After the guest has completed his place card, bring him over to the party table. Have him place his card at an empty spot. When it's time to sit down for cake and ice cream, each child will be able to recognize his card, enabling you to get everyone seated without a fuss.
Photo Credits
Jupiterimages/liquidlibrary/Getty Images