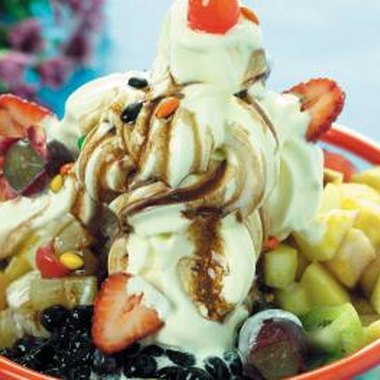 Residents of McKinney Texas, half an hour north of Dallas, cool off every year with their annual Ice Cream Festival. The McKenny Ice Cream Crank-Off attracts visitors and travelers who come to check out new ice cream concoctions and flavors that the Crank-Off features. The festival allows amateur ice-cream makers to demonstrate their ice-cream making skills while the town of McKinney expresses true Texas hospitality.
Festival History
The Ice Cream Crank-Off of McKinney began in 1995 when Clyde Geer and his father-in-law, Killis Melton decided to inaugurate an ice-cream festival. They held it at Clydes-on-the-Square eatery for many years but the crank-off moved it to Chestnut Square Historic Village when Clydes closed. They envisioned it as a small get-together for the town's residents and, perhaps, some visitors, never dreaming that it would grow to the large and lively fair that it is today.
Crank-Off
Henry's Homemade Ice Cream and the Chestnut Square Historic Village co-sponsor the festival. The highlight of the festival is the Crank-Off which gives homemade ice-cream makers the opportunity to place their unique ice-cream tastes and concoctions in competition. Visitors can walk around and taste different ice creams for a fee (as of 2011, tickets cost $10 for adults and $5 for kids aged three to 12) and then cast their votes for the best ice-cream. Proceeds from the ticket sales go towards the McKinney Educational Foundation. The festival awards prizes for best overall flavor and the people's choice, in addition to a "You Made What?" award.
Crank-Off Entries
Contestants in the Crank-Off come to Chestnut Square by 9 a.m. on the morning of the festival. Each contestant brings their own ice-cream freezer and enough pre-mixed ingredients to make two gallons of their entry flavor ice-cream. The festival organizers furnish salt, powder and ice. Contestants make many interesting flavors of ice-cream including beer, chai, peach cobbler and Jalepe--o Blackberry Jelly.
Other Festival Activities
The festival is an all-day event. Visitors can go to the downtown McKinney Farmers Market in the morning. The Wilmeth schoolhouse has continuous children's activities running, including opportunities to make ice-cream, a magic show on the main stage, the mustang swing and amusement rides on the Green Space. Food and, of course, ice cream vendors sell delicious food and treats. From noon to 1:30 p.m. visitors walk around and taste the Crank-Off entries and vote for their favorite ice cream. At 1:45 p.m. the festival organizers announce the Crank-Off winners on the festival's main stage.
Photo Credits
Jupiterimages/Photos.com/Getty Images