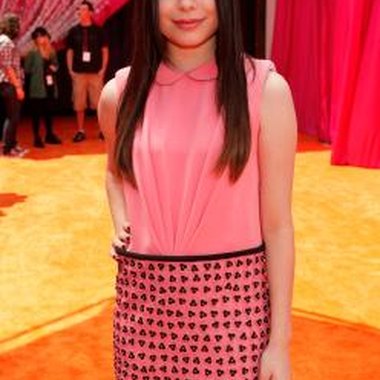 If you have a daughter who loves the Nickelodeon television show "iCarly," chances are you will be throwing an iCarly-themed birthday party. Incorporate Carly and her best friends, Sam and Freddie, into the party excitement. Take inspiration from the show and make it a tech-savvy party, from the invitations to the activities.
Invitations
For a simple invitation, print pictures of Carly and her friends. Write the party details on the back of each picture. Decorate the envelope with iCarly-themed stickers before mailing. iCarly-themed party invitations are also available online and at many party supply stores. Or, since Carly is computer-savvy and innovative, send out email invitations. Use a web cam to record a short message inviting guests to your iCarly party and send it in the email.
Decorations
Decorate the party area with pictures and posters of Carly, as well as Freddie and Sam. Make banners that say "Welcome to My Web Show" and "I Love iCarly." Hang paper lanterns and string lights to resemble the look of Carly's apartment. Use bright-colored steamers and balloons. Make a balloon bouquet for a table centerpiece by attaching a bundle of balloons to an iCarly figurine doll. Hang fake cameras to make the party area resemble a studio.
Activities
Hang a large green sheet on the wall and set a video camera up on a tripod in front of the sheet. Each party guest will take turns standing in front of the sheet to record a message to the birthday guest of honor. Another idea is to divide the girls into teams and have each team host their own "web show" in front of the camera. Award prizes to the best, funniest and silliest web shows. Make a copy for each guest to take home as a memento of the party.
Games
See how much your party guests know about the show with an iCarly trivia game. Create a list of questions beforehand, such as "Who plays the part of iCarly?" and "What is the name of Carly's brother?" Award one point for each correct answer and the player who earns the most points wins a prize. Have a contest to see who can do the best iCarly character imitation. Guests can choose to imitate Carly, Sam, Freddie or any other character on the show. Award prizes for the best, funniest and most realistic character impressions. Record all the impressions to watch later during the party.
Photo Credits
Christopher Polk/Getty Images Entertainment/Getty Images