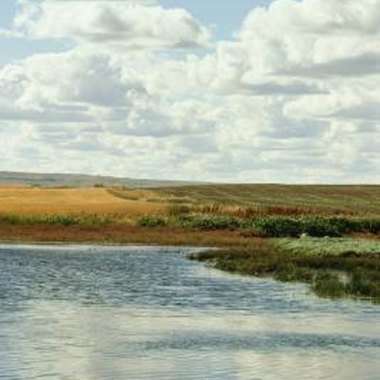 Saskatchewan is a Canadian province known for its vast wheat fields, herds of bison and wild open spaces. Hunting is a common hobby for both locals and tourists and there are specific laws that govern seasons, firearms and licenses. You need to be especially aware of these laws if you are a tourist or a non-resident of Saskatchewan.
Licenses
Both residents and visitors to Saskatchewan must have a physical license on their possession to legally hunt. Licenses and permits that are purchased on the Government of Saskatchewan website can take three or four weeks for delivery. Local vendors and government offices will have the necessary forms and can issue you your license on site if you do not have time to wait.
Seasons
The Ministry of the Environment in Saskatchewan regulates hunts according to the game, the hunting zone and the season. Larger game like Mule deer and Pronghorn antelope have seasonal hunts that are regulated depending on the population. The numbers of tags and licenses up for sale depend on the current population. For example, as of July 2011 the Antlerless Mule deer licenses were being sold on schedule, but the Pronghorn antelope population suffered so badly over the winter that the hunting season for them was cancelled entirely and no licenses were sold.
Special Hunts and Hunting Zones
Special hunts are offered at specific times of the year in certain zones to hunters with the proper paperwork. There are six National Wildlife Areas open to hunting in the province. They are managed by the Canadian Wildlife Service. Hunting is prohibited on private land, in provincial parks and recreation sites. Licenses for special hunts in certain seasons are sold separately from special hunt or Big Game Draw licenses.
Public Hunting and Other Regulations
The province of Saskatchewan has special land provisions that organize hunting rules in each zone. Vehicle use in these areas, which include public Fish and Wildlife Development Fund Areas and pastures administered by the Ministry of the Environment, is also strictly regulated. Trails and roads are carefully mapped and in some cases hunters must stay on these trails unless retrieving an animal carcass.
Photo Credits
Photos.com/Photos.com/Getty Images