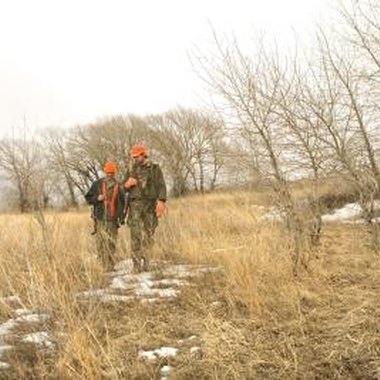 The Perrot State Park in Trempealeau, Wisconsin, offers 1,000 acres of public hunting access available to muzzleloader hunters for one week in November every year. Hunters only need to obtain a park access permit prior to the season, as well as the regular Wisconsin hunting license and tags. There are certain rules, nonetheless, when hunting in the park.
Dates Open
Various types of deer seasons in Wisconsin begin running in the middle of September and last until January, according to the type of weapons used and the permits being held. At the Perrot State Park, however, hunting is restricted to muzzleloaders for one week in November. This is generally the week before the statewide muzzleloader season that begins at the end of November. The park is not open for hunting on any other dates or for any other weapons.
Rules Concerning Muzzleloaders
For safety reasons, all muzzleloaders must be unloaded and kept in a carrying case while in a vehicle or in a part of the park that hunting is not allowed. The cap must be removed from a cap lock muzzleloader in order for the weapon to be considered unloaded, or the flash pan has to be cleaned on a flint-lock muzzleloader. The ball and barrel may remain in the barrel.
Tree Stand Rules
Tree stands must be taken down at the end of every day. They cannot cause any damage to the trees, such as be screwed into them or nailed into the wood. If you're not sitting in the stand while hunting, it must have your customer ID number or name and address attached to it so it can be seen from the ground. Ground blinds can be used, but they must have at least 144 square inches of blaze orange material that goes all the way around the blind.
Other Restrictions
Hunters cannot pursue a wounded deer into a closed area of the park. Instead, they must notify a park employee and the staff member may assist in retrieving the wounded deer. Hunters can't drive deer from a closed area either. All hunters in Perrot State Park must have a Park Access Permit for unit 61A. All state hunting regulations apply, such as rules concerning baiting deer and filling out tags.
Photo Credits
Thinkstock/Comstock/Getty Images