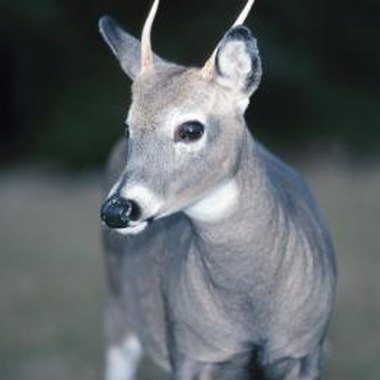 Northern regions of New York, including the Adirondack mountain range and St. Lawrence River plateau, provide a diverse habitat for white-tailed deer and other animals desired by hunters. Popular in the fall and winter months, New York hunters must obtain proper licensing before the hunting season. Small and big game, ranging from ducks to deer, are prized by hunters in this region.
Hunting Grounds
The Northern Zone runs along the Salmon River and junctions with Lake Ontario near the town of Pulaski. In the Adirondack region, this zone runs along the eastern shore of South Bay near the village of Whitehall. Moose River Recreational Area in Hamilton County is a popular destination for hunters, and the Adirondacks in general provide more than 6 million acres of land, much of which is designated for hunting.
Big and Small Game
Big game in the Northern Zone include black bear, deer, wild turkey and waterfowl. Small game such as pheasants and quail are also hunted. Furbearers, which resemble bobcats, are hunted as well if specific sportsman licensing is obtained. According to the Northwoods Wilderness Guide Service, the Adirondack region has some of the largest white-tailed deer in the country, which top the scales at more than 200 pounds.
Hunting Techniques
Firearms, such as shotguns and muzzleloaders, are used to hunt in the Northern Zone. According to the New York Department of Environmental Conservation, crossbows may also be used during the regular firearms season. Crossbows allow hunters to go after big game, and a signed "Certificate of Qualification" must be in the hunter's possession at all times. Seniors older than 70 are not allowed to use crossbows.
Hunting Season and Licensing
The Northern Zone has different dates for bow hunting and use of firearms. Hunting season for bow hunters begins in September and begins in October for muzzleloaders. The regular season, which allows for the use of other firearms, also begins in October. Hunting licenses and tags must be purchased before he start of season, and a 10-hour safety course is required for all first-time hunters. Small game licenses are required for all individuals older than 12, and large game licenses are required for hunters older than 16.
Photo Credits
Hemera Technologies/AbleStock.com/Getty Images