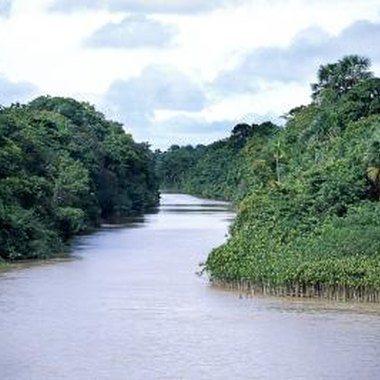 Guyana, a developing country with an emerging eco-tourism economy, is the only South American nation where English is the official language. Most people in Guyana live on the eastern coast of the country. The interior is sparsely populated by numerous indigenous tribes collectively called Amerindians. Most of the country is covered by the dense Amazon rain forest and teeming with wildlife. Hunting in the Amazon is allowed, except in protected areas. Travel through these areas requires a permit from the Guyana Environmental Protection Agency.
Protected Areas
Amerindians are the only people who are permitted to hunt in protected areas of Guyana. Protected areas and national parks include Kaieteur National Park, Konashen, and Iwokrama. Iwokrama is an area of 371,000 hectares, or more than 916,000 acres, of managed rain forest in the center of Guyana. The area is managed by a coalition of Amerindian and international groups working to develop sustainable forest practices. Amerindian traditional hunting and gathering practices are exempt from hunting laws applicable to protected lands.
Amerindian Hunting Rights
The Amerindian peoples of Guyana hunt primates, rodents, peccary, tapir and deer. In the past, the government's desire to develop the natural resources clashed with Amerindian claims to traditional lands. Following implementation of the National Development Policy by the government in 1996, almost 1.4 million hectares, or nearly 3.5 million acres, was reserved for occupation and hunting by Amerindians.
Protected Birds
The jaguar, tapir, giant armadillo and more than 30 other species are listed as endangered or threatened by environmental groups, but Guyana has no laws prohibiting hunting these animals in the rain forest outside of designated protected areas. No hunting permits are required. However, birds such as the canjie pheasant, harpy eagle and toucan are strictly protected in all areas of Guyana.
Traveler Tips
The U.S. Department of State (travel.state.gov) advises travelers to Guyana, including hunters, to be prepared when visiting the country. Guyana does not have modern medical facilities outside the capital of Georgetown, and emergency services are limited. There is no cell phone service in the Amazon rain forest, and there are no hospitals. The roads can be treacherous, and most regions are accessible only by boat or local air service.
Photo Credits
Brand X Pictures/Brand X Pictures/Getty Images