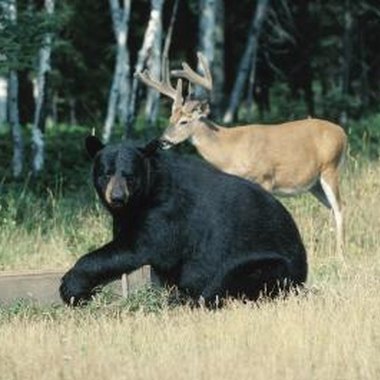 Garrett County is the westernmost county in Maryland, and is known as Maryland's "Mountain Top Playground." It offers an active outdoor lifestyle with four seasons of fun set in a relaxed, kicked-back atmosphere. Fishing, camping and hiking are available in spring and summer, but winter sports, especially skiing and extreme sports, are popular in winter. Garrett County is also home to five large state parks that offer hunting during the various seasons to those who are properly licensed.
Licensing Requirements
Hunting licenses are available to residents and non-residents, and a license must be valid before hunting. Maryland state law requires that the license applicant show a certificate of competency in firearms and hunting safety or certification that you have held a license prior to July 1977. If you have previously hunted on private lands and did not need a permit, you must show proof of that claim. Hunting licenses are available for a full season or just for individual species. As of 2011, rates range from $24.50 for residents between the ages of 16 to 64 with higher rates for non-residents and lower rates for juniors and seniors.
Hunting Seasons
Deer season extends from mid-September to the end of January in Garrett County, depending on the type of weapon used. Wild turkeys can be hunted in the fall and spring, Canada goose and other birds can be hunted from Sept. 1 to Sept. 15 in the Western Hunt Zone. Black bear season is for one week in late October in Garrett and Allegheny counties only. Fox can be hunted from November 1 through January 19. Muskrat and mink can be trapped from mid-November until mid-February. Contact the Maryland Department of Natural Resources for specific dates each year.
Black Bear Permits
Applications for licenses are accepted each year, beginning in July. Permits are issued by lottery for the upcoming season in October. There is a preference point system that gives applicants who were unsuccessful in previous years an advantage for the current year. Each applicant gets one entry in the random drawing, but the applicant can have an additional entry for each past year they have applied and were not successful in obtaining a license. The applicant must apply each year to keep preference points in play. Preference points can also be purchased. There are only 260 permits issued each year, and a quota of 55 to 80 bears each season. The season can close early if the quota is filled.
Garrett County Public Hunting Lands
The following public areas are available to licensed hunters during the season. Deep Creek Lake State Park has 1,200 acres, 301-387-5563; Mt. Nebo WMA offers 1,860 acres, 301-334-4255; Potomac-Garrett State Forest has 18,535 acres of prime land, 301-334-2038; Savage River State Forest offers 54,447 acres of land, 301-895-5759; Youghiogheny Reservoir CWMA has 900 acres, 301-387-5563. Some of these areas require a Department of Natural Resources Hunt Permit; call first to verify that you have the correct license and the types of animals that can be hunted at each location.
Photo Credits
Hemera Technologies/Photos.com/Getty Images