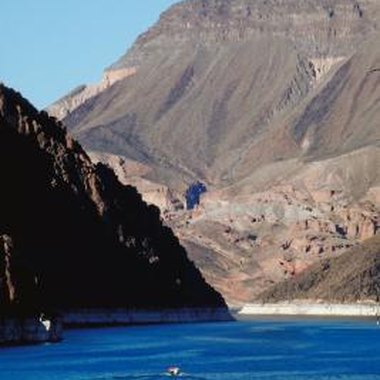 Lake Shasta is in Northern California just north of Redding. Shasta Lake is California's largest man-made lake, resulting from the damming of the Sacramento River. This mountainous region is lush with manzanita and tall evergreen trees, resulting in perfect habitats for black-tailed deer and numerous species of waterfowl and other game birds. Shasta Lake has many opportunities for the avid hunter and outdoor enthusiast.
Regional Topography
The Shasta Lake region in Northern California is rugged and thick with dense vegetation, a variety of soil and rock, including volcanic and sedimentary rock slopes. The dense vegetation and terrain make perfect territory for the large black-tailed deer that flourish in the region and other game birds such as moorhens, snipes, coots and doves. Game trails are evident in the backcountry, however, if you're new to the region hiring a guide will make for a safer and more enjoyable experience through thick terrain. The lake's surface elevation is 1,067 feet above sea level, though the surrounding area is very mountainous and base elevation ranges between 600 and 5,000 feet with rapid fluctuations.
Whiskeytown-Shasta-Trinity National Recreation Area
Established by U.S. Congress in 1965, the Whiskeytown-Shasta-Trinity National Recreation Area is an outdoor paradise for the sportsman, naturalist, hunter or any avid outdoor enthusiast. The Shasta unit is co-managed by the U.S. Department of Forest Services. Hunting areas abound in and around this large span of forest and on specific parts of the 370-mile shoreline of Shasta Lake. Several visitors centers provide detailed information about hunting opportunities, types of game and designated seasons within the recreation area.
Types of Game
The wildlife in and around the Shasta Lake region is plentiful and diverse. Most hunters that frequent the Shasta Lake area hunt primarily for migratory birds and waterfowl. The lake region yields numerous game birds such as pheasant and quail species, dove, moorhen, coot and snipe. The lake generally is frequented by migrating waterfowl. Hunting on the lake is restricted to specific areas and only when in season. Large game mammals include black-tailed deer, black and brown bear and mountain antelope. Several other small game animals such as jackrabbit, fox and beaver are also abundant. These animals also require a trapping license and restrictions may be in place at any time during the year. Check the California Department of Fish and Game website for hunting seasons, areas and license information.
Guided Hunts
Several hunting guides are available around the Shasta Lake region. Some are located less than 15 miles away from the lake, and others no more than a half hour drive away. Generally, guided hunts are provided by specific outfitters on privately owned land. The private hunting lands also typically are stocked with game animals to ensure that a hunter has a good chance at bagging that prize game. For the first time visitor to the Shasta Lake region, a guided hunt is ideal. This enables a new hunter to get accustomed to the area's topography, vegetation and animal habitats.
Photo Credits
Jupiterimages/Photos.com/Getty Images