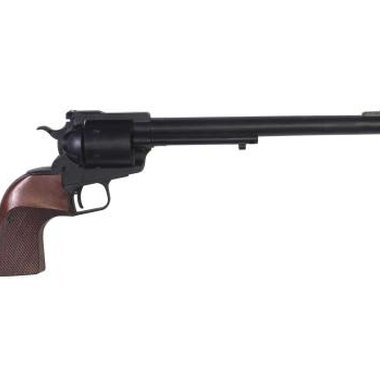 The Hunter's Pistol Silhouette competition is a competitive shooting sport sponsored by the National Rifle Association. The competition consists of engaging metal silhouette-style targets at distances of up to 100 meters. The targets are made to resemble life-size animals such as chickens, pigs, cows and sheep. Hunter's Pistol Silhouette is an extremely enjoyable and interactive sport for both participants and spectators alike. Like any sport, a grasp of the rules is essential to having a fun and safe sporting experience.
Qualifying Handguns
As the name would indicate, Hunter's Pistol requires the use of a handgun. This handgun can be anything from the single-shot Thompson Contender to a single-action or double-action revolver, provided that the total weight of the pistol, including any optics that are mounted, does not exceed 5 lbs. The pistols are also required to be production pistols--that is, generally available to the public--and may only have a restricted number of modifications made to them. As far as ammo is concerned, any straight-walled pistol ammunition, from .22 to .45 caliber, is allowed. Eye and ear protection are mandatory for this pistol competition.
Divisions
Divisions within Hunter's Pistol competitive shooting allow for a wide variety of pistols and sights or optics, making the sport fun and easily accessible to shooters regardless of their budget, physical strength or eyesight. The Hunter's Pistol division is by far the broadest and encompasses the widest variety of calibers and optics choices. The Hunter's Pistol Metallic Sights division includes all pistols with "open" or iron sights. The Smallbore Hunter's Pistol division is similar to the Hunter's Pistol division, except that it is limited to .22-caliber rimfire cartridges. Finally, the Smallbore Hunter's Pistol Metallic Sights division is limited to those .22 caliber rimfire pistols that have "open" or iron sights.
Coaches
The use of a coach -- someone to assist you with placing your shots -- is permitted. This is usually someone, such as a friend, relative or co-participant, who uses a device such as a spotting scope or binoculars to help you place your shots. Coaches are allowed to provide information about your previous shots and coach you on your form and technique, but they cannot make any of the actual shots themselves. Good coaching is considered one of the essential keys to a successful Hunter's Pistol match.
Other Competition Rules
Hunter's Pistol competitions require each match to be shot with the same handgun for the duration of the match. No modifications to the configuration of the pistol may be made during the match. Each handgun must be examined, weighed and measured beforehand to verify that it is within the qualifications for the given division. No "sighting shots" -- shots taken before the match to verify your gun's optics -- are allowed, unless done in a practice environment made equally available to all participants. Any violation of these or other rules are means for warning or disqualification.
Photo Credits
PhotoObjects.net/PhotoObjects.net/Getty Images