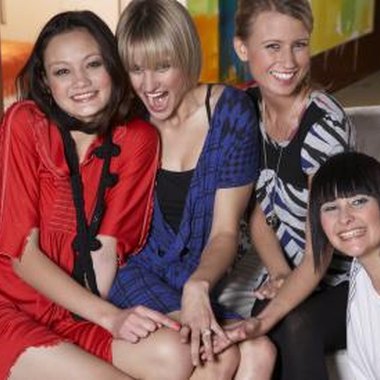 It is customary to throw the bride a shower in honor of her big day. Since the bridal shower is an extension of the wedding, it requires the hostess to send out invitations. However, the shower invitations do not have to be as fancy and formal as those for the wedding. Keep the mood fun and casual by adding humor to the bridal invitations.
Taking the Plunge
"Taking the plunge," is a common phrase used to describe getting married. You can give your bridal invitations some humor by incorporating the phrase into the content. Write something like, "Celebrate with us as Katie Herman gets a final breath of air before taking the plunge," and emphasize the humor with a graphic image of a bride walking the plank on a ship, or getting ready to dive into a lake.
New Life
Brides-to-be often make fun of what their new lives will look like after they are married and have husbands. The bridal shower invitations can contain a list what the bride has to look forward to. For instance, "Come join us before Laurie Watson looks forward to a life of football games and action movies." Or, "Celebrate with Laurie Watson before she is busy with a life of putting down toilet seats."
Lingerie Showers
You can't go wrong with a lingerie-themed bridal shower, and this type of celebration presents ample opportunities for humor in the invitations. You can advertise the shower as an "undress the bride party," "replace with lace" or a "naughty or nice" party. Write in the invitation that this lingerie shower is in attempt to help the bride go from granny-panties to glamorous, or that with all the new lingerie, she can finally throw her old cotton underwear away. Include the groom in the humor too, by writing, "You are invited to a bridal shower that the groom will love more than the bride - a lingerie shower!"
Poem
An effective way to add humor to a bridal invitation is through a poem. Write a clever and funny poem in the invitation that pertains to the bride and her groom. You might word it like, "Emily Jackson can hardly wait to marry her lifelong love and mate. Let's give Emily a reason to smile, by showering her with gifts for a while." Or, "We'll send off the bride with fun, flashy style before she joins her groom down the aisle."
Photo Credits
David Woolley/Photodisc/Getty Images