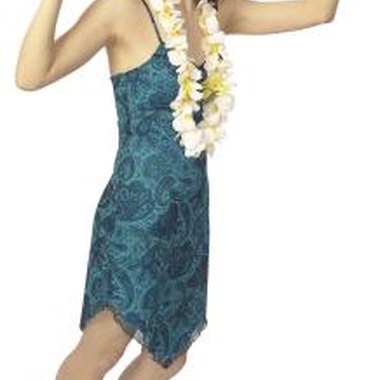 Aloha! Invite your friends to pack up their Wii Fits and join you for a gala Luau. Provide plenty of space, electrical outlets, good food, crafts and costumes and additional games for those who are waiting to use a Wii. Encourage good health and happiness for all by planning balanced activities and a menu of good-for-you food with an island theme.
Invitations
Decorate party invitations with tropical flowers, hula dancers, pineapples or similar items. If guests are invited to bring their own Wii, specify what kind of electrical access is available. Include address, date and time for the event. Encourage guests to bring costumes, such as Hawaiian shirts and grass skirts, as well as any old hula hoops they may have lying around the house.
Leis and Costumes
Greet your guests at the door with leis. Purchase party-favor leis or hand make them from a variety of materials. Easy leis can be made by cutting circles of colored tissue paper and stringing them on 24 inches of twine or yarn. For those who do not have colorful shirts or grass skirts, make a fast grass skirt from a green draw-string garbage bag. Cut the bottom out of the bag, then cut the sides into strips. The drawstring makes this a one-size-fits-all garment.
Wii Set-up
Clear one room for the Wiis. Check to make sure your electrical system will sustain added machines. Check the watt consumption of your Wii and compare that to your house electrical current. Alternatively, rent a space in a community center to hold your event. Plan for ways to keep electrical cords from tripping guests and have hand sturdy tables or stools for the Wii monitors on hand.
Food and Drink
Provide Hawaiian-style food, such as carved pineapple, shell fish, ocean fish, guava, macadamia nuts, coconut and ginger-spiced vegetables. If your party includes people who are using the Wii to increase personal fitness, plan a balanced menu that focuses on good taste combined with low calories. Serve the food buffet style on long tables decorated with grass mats, pineapple tops, little paper umbrellas and tropical flowers.
Playing the Wii's
Once the Wii station is set up, have a tournament with prizes. If you have enough machines on hand, reserve a couple of them for people to just have fun. Encourage people who are eating to remain in the dining area, away from the electronics. If children are playing, arrange with a couple of friends to make sure an adult is supervising at all times.
Related Games
Plan spaces for other Hawaiian-themed games, such as Island Images Card Memory Game. Images are available at Aloha Friends (see resource list), or you can make your own pictures. Glue two of each image to a stiff backing. Cut them out and spread them face-down on the floor. Turn one face up, then see if you can find a match. If you are not successful, turn them face down and flip another over; then see if you can remember where the match is located. If an outdoor area is available, toss basketballs through a hoop or wastebasket decorated with a grass skirt or provide real hula hoops for guests to try. Decorate a melon like a pig and have a pig-spearing contest.
Resources
Photo Credits
Hemera Technologies/PhotoObjects.net/Getty Images