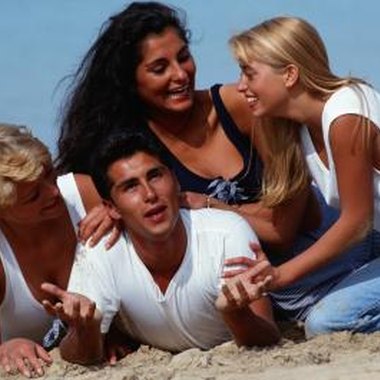 Hugh Hefner first published his magazine "Playboy" in 1953; it has since become an icon of airbrushed aspiration to many generations of men who only buy it for the automotive articles. The immaculate and inspirational Heff is an ideal totem for every right-thing male's emulation. Sadly, ordinary mortals are fated to achieve only a sad and pale imitation of the life lived by the man himself, but donning his trademark costume makes a fine starting place.
Hefner's Ascendance to Avatar
With the arrival of "reality TV" in the early aughts, Heff identified and exploited -- to the hilt -- a new niche by exposing the lives of ordinary people who wish they weren't: He invited the cameras into his fabulously gauche Grand Manse over L.A., and introduced viewers to a constantly rotating harem of hand-me-down Playmates of the Whatever. Some of the girls flirted with a flicker of stardom, but Heff has ascended from mere magnate to being a living, breathing bastion of American core values.
Heff's Trademark Wardrobe
Heff is known for a vast library of outstanding contributions to social evolution and personal style, not least among them the wearing of pajamas and a red velvet smoking jacket to all but the most formal of occasions. Propriety is everything when assembling an outfit suited to a cultural king, and the jacket is important to get right: collar and cuffs must match, in direct contrast to the ladies who are also an important part of the ensemble. For complete authenticity, said embellishments ought to be black, as should the jammies and carpet slippers. On the left breast, a small bunny logo or the "Playboy" masthead may add panache. Draw the assemblage about yourself with a red silk sash tied at the waist.
Adding to the Overall Effect
Offset the outfit with appropriate props. A fake bald head affecting a Trump-style catastrophic comb-over, a pinkie ring of genuinely vulgar dimensions and a 1970s porn-star chest wig will make you simply irresistible. A plastic corncob pipe also serves as an excellent addition. Consider dabbing a little embalming fluid behind your ears for the ultimate in aromatic emulation.
Heff's Poise and Deportment
Practice wandering aimlessly. Only a true ladies' man can master the bemused-but-staggeringly-wealthy air adopted by Heff as he meanders through his ever-more-endearing 80s. Demeanor is everything in bringing off the Hugh Hefner costume.
To Be a Professional Heff
Lastly, drape yourself with three buxom, naked or almost-naked bottle blondes. Three is the requisite minimum for authentic Heffers. Ideally one should be spiteful and look like Skeletor, while the other two should be twins; all should be absolutely at peace with their inner stripper, made up like mannequins and deeply annoying. All should be foul-mouthed and a peculiar shade of orange.
What to Expect When Mistaken for the Real Thing
Hotness alert: now you look truly classy. You are arrayed as Hollywood royalty at its most refined, and good taste is your constant companion. The only downside is likely to be the jealousy of other partygoers less distinguished and cultivated than you.
Resources
Photo Credits
David De Lossy/Photodisc/Getty Images