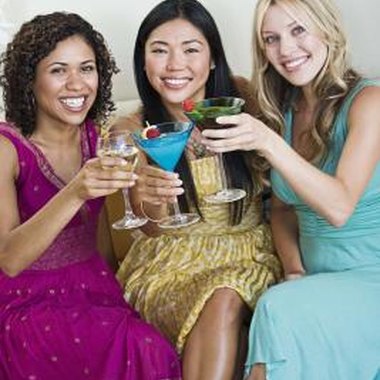 Moving into a new house or apartment can be stressful, but one exciting thing about a move is being able to throw a housewarming party once you are all settled in. This is a great way to show off your new living space while also receiving some needed items as gifts. These fun and creative themes will not only liven up the party, but will be a good way to let guests know what kinds of gifts to bring.
"Toast to a New Home"
If you enjoy wine, consider having a toast-themed housewarming party. Send invitations on wine bottle cutouts. Decorate the party area using wineglasses with tea lights in them. String burgundy-colored balloons and use wineglasses as flower vases. Use paper plates and napkins with wine bottles or grapes on them. During the party, offer several varieties of wine or even hold a wine-tasting. Keep food simple with a variety of fruits and cheeses. Suggest that guests bring items to stock the bar.
Garden Party
If your new house has a garden, you can have the party outside and throw a garden-themed housewarming party. Attach the invitations to small packets of seeds. To decorate, hang flower-shaped lights and use potted plants as centerpieces. Place utensils for food in clean, empty flower pots and use floral paper plates and napkins. For party favors, give out rose candles or garden tools. Gift suggestions can be garden tools, plants and other gardening accessories.
Barbecue
If you enjoy grilling or outdoor cooking, throw a barbecue-themed housewarming party. Send out invitations with barbecue menus attached or on cutouts in the shape of barbecue grills. Decorate the party area with traditional picnic decor such as red gingham paper plates, napkins and tablecloths. Have the guests sign an apron when they arrive. During the party, play traditional outdoor games such as horseshoes or Frisbee. Have each guest write down a favorite recipe and place it in a cookbook as a housewarming gift.
Board Games
If you enjoy board games and family game night, throw a board game-themed housewarming party. Decorate invitations with classic board game items such as Monopoly money, Trivial Pursuit cards or cutouts of dice. Decorate the party area with classic board game covers. During the party, play classic board games such as Clue, Checkers and Scrabble. For the kids, have Candyland and Chutes and Ladders. Guests can bring board games as gifts.
Resources
Photo Credits
Jupiterimages/Brand X Pictures/Getty Images