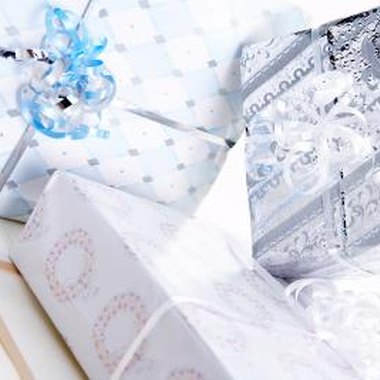 Legend has it that the bridal shower replaced the traditional dowry to outfit the bride with the things she needs to begin her married life. In a sense, the bridal shower is a housewarming party: the bride receives kitchenware and linens, just as she might for a housewarming. The best way to determine the appropriateness of having both parties is to treat the housewarming as a shower, and follow shower etiquette accordingly.
Bridal Shower Etiquette
Bridal showers are gift-giving events. The etiquette surrounding multiple showers exists to protect the bride from looking like a gift-grabber. If a bride receives multiple showers, the guests should never overlap. The hosts of the showers should coordinate to segment the wedding guest list. One shower may be for sorority sisters, another for family friends. High school friends and college friends may be similarly divided. In any event, guests should not feel obligated to buy multiple shower gifts, and that burden is on the shower hosts.
Housewarming as a Shower
A housewarming party is essentially a shower. Although a couple would not register for housewarming gifts, most guests bring a token to stock the new home. Gifts range from wine and candles to expensive appliances and linens. The housewarming is also an opportunity for friends and family to visit the new home. Housewarming parties differ from showers in several ways, but holding both in close proximity blurs those distinctions. What guests are likely to notice is the double call for gifts, rather than two separate milestones in a couple's lives. Don't hesitate to celebrate all of your life milestones, but plan them conscientiously. There is no hard and fast rule, but it is wise to treat the housewarming as another shower.
Managing Etiquette
To be maximally inclusive, hold off on the housewarming party for a few months after the wedding. This way, you won't have to segment the guest list. (You can also avoid the added awkwardness of inviting an acquaintance or coworker to the housewarming who won't receive a wedding invitation down the road.) Wedding guests will have time to recover financially from the shower and wedding gift frenzy, and won't view the couple as being greedy. If you must hold the housewarming between the shower and the wedding, treat it as a shower. Invite only a segment of the guest list, like your neighborhood friends or college buddies. Just be sure the housewarming guests are not on another shower list.
Who Should Host
Anyone close to the bride can host a bridal shower, though it is usually frowned upon for her mother or other immediate family to do so. The host should consult the bride's wedding guest list, as anyone invited to the shower should also be invited to the wedding. A housewarming party is held by the couple to welcome family and friends to their new home and celebrate their accomplishment of home ownership.
Photo Credits
Jupiterimages/Photos.com/Getty Images