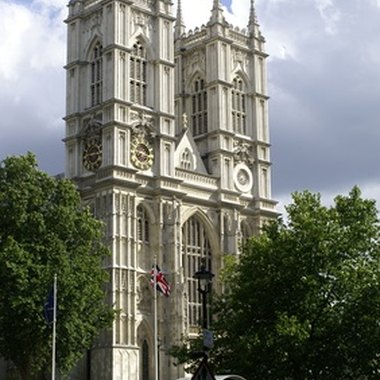 Located in the heart of London, the Westminster borough offers sweeping views of the River Thames and of the stately buildings of Parliament. Tourists often come to this area to visit historic Westminster Abbey as well as the Palace of Westminster, which is commonly called the Houses of Parliament. When it comes to accommodations, Westminster provides more than a dozen hotels that are suited to every budget.
Luxury Hotels
Since Westminster is one of the classiest areas of London, you'll find an abundance of high-end accommodations here. The 41 Hotel is only a few blocks south of Buckingham Palace and is described as a "well-placed gem" by Frommer's. Every room features a stylish black-and-white color scheme, and a few rooms also boast a fireplace. Another luxury hotel is the Goring, which prides itself on offering what it calls the best service in Westminster. Amenities at this hotel include extra-long bathtubs, marble walls and access to a nearby health club. For the best view, ask for a room overlooking the garden.
Mid-Range Hotels
If you'd like to save a few dollars on your trip, consider staying at a mid-range hotel in Westminster. With more than 270 rooms, the St. Ermin's Hotel caters to business and leisure travelers alike and is located within walking distance to the London Eye and Parliament Square. Special amenities include catering services, rollaway beds for kids and laptop rentals for business guests. Additionally, be sure to check out the Sanctuary House Hotel, which received a starred review from Frommer's. The Sanctuary House has a rustic feel with its four-poster beds and downstairs pub. The pub is known for its impressive list of British ales.
Budget Hotels
Along with its luxury hotels, the Westminster borough also has a couple of budget options for travelers. The Vandon House Hotel, located northwest of Westminster Abbey, is a popular choice for students and backpackers. Although the rooms are sparsely decorated, the hotel provides amenities like high-speed Internet, a lounge and a free continental breakfast. Budget travelers should also consider the Days Inn Westminster, located a few blocks from the Pimlico Tube station. The rooms can sleep up to six people and come with satellite TV, wireless Internet access and an en-suite bath.
Extended-Stay Hotels
For travelers planning on an extended visit to London, the Dolphin House allows guests to stay for several months or just one night. Decorated with modern furnishings, this hotel offers studios as well as one-, two-, or three-bedroom apartments. Each apartment comes equipped with a full kitchen, LCD television and a king bed. Dolphin House has a prime location on Dolphin Square in Westminster, near the district's attractions and public transportation, which makes getting to Kensington, Chelsea and central London easy and fast.