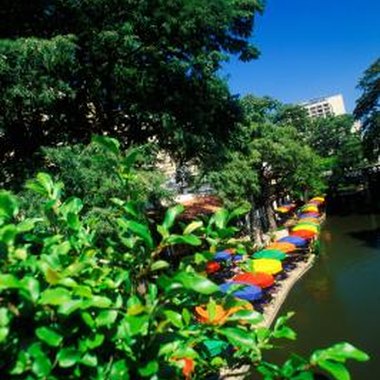 San Antonio's romantic setting remains an ideal location for wedding ceremonies and celebrations. With its tree-shaded cafes, river promenade, bustling Mexican restaurants and fresh-fruit markets, San Antonio attracts millions of visitors each year, including lovebirds wanting to tie the knot. Wedding guests find plenty to do, whether its visiting the city's four missions, hunting for Mexican-influenced finery at artisan shops, or gulping raw oyster platters and tangy margaritas. Some San Antonio hotels offer special packages for weddings.
Wedding Website
Tracking the myriad details of wedding planning can be a daunting task, so the Sheraton Gunter Hotel in San Antonio offers soon-to-be-wed couples a complimentary wedding website where guests can access special room deals and reservations. The historic, 1905-era hotel hosts weddings of up to 750 guests, with convenient access to a pedestrian river walk containing gardens, shops and cafes. Brides and grooms receive free accommodation, parking and champagne on the night of their wedding reception, access to a wedding consultant, linens and chairs, hurricane lamp table settings, and free cake-cutting services.
Free Honeymoon
Guests who book weddings at the Omni San Antonio Hotel receive free honeymoon packages at certain Omni Hotel locations, including Cancun, Bedford Springs and Mount Washington. The AAA-rated four-diamond hotel offers wedding packages, including discounted room rates for out-of-town guests, champagne toast and free parking. Wedding banquet menu options include jalapeno cream cheese puff pastries, grilled Gulf shrimp, chili-rubbed steak and cheese enchiladas. Wedding couples wanting to offer breakfast for guests can book continental breakfasts or plated breakfasts featuring western-style scrambles.
Courtyard Ceremony
San Antonio's warm sunshine and gentle breezes set the stage for outdoor weddings. Wedding couples staying at the Fairmont Hotel in San Antonio arrange for outdoor weddings at the venue's on-site courtyard, featuring torches and granite pavers. Ask for a tented canopy for extra protection from the elements. The hotel accommodates wedding receptions of up to 90 guests, with facilities featuring antiques, crystal chandeliers and catering options.
Hill Country
Deservedly famous for its sweeping vistas and rolling hills, the natural world remains one of San Antonio's main attractions. Embrace the outdoors with a wedding at the Westin La Cantera Resort, accommodating up to 1,000 guests. Couples can choose from limestone arches, terraces offering sunset views or fancy ballrooms to stage their wedding. Wedding packages include ceremony rehearsal, garden chairs, discounted golf rounds, late-night taco bars, farewell breakfasts and parting gifts for guests. Brides have access to designated rooms for getting reading for the ceremony.
Photo Credits
Jupiterimages/Photos.com/Getty Images