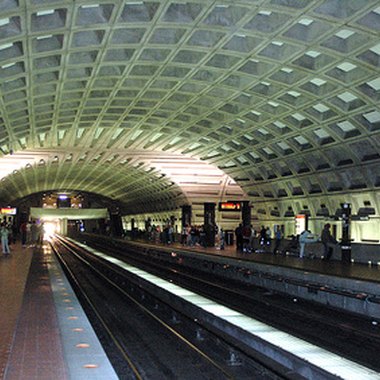 Distances in Washington, DC, are both long and deceptive, and with sights like the Lincoln Memorial and the Capitol building separated by a distance of almost two miles, transportation is a key feature for visitors to consider before choosing a hotel in the city. As most of the city's sights are situated around Metro stations, staying in a hotel that is also close to a Metro station greatly simplifies getting around Washington, DC.
Capitol Hill Suites
The Capitol Hill Suites is a block from the Capitol South station, and the hotel is also only two blocks from the Capitol and the Library of Congress. Fodor's described it as "good for extended stays," and the hotel comes with many environmentally-friendly features, such as water-saving shower heads. The hotel's two wings are unconnected, however, which makes visiting the fitness center or grabbing a cup of coffee from the lobby inconvenient, depending on what part of the hotel you stay in.
George Washington Inn
Situated around the corner from the Foggy Bottom-George Washington University station, the George Washington Inn presents visitors to the city with an less expensive choice close to a metro station. The hotel has a pleasant entry courtyard framed with wrought iron gates, and rooms are appointed with reproduction colonial furniture. While the amenities available at the hotel are basic, guests do receive complimentary access to a Bally Total Fitness Club located in the neighborhood.
Hotel Monaco
This hotel comes "Very Highly Recommended" from Frommer's and received a Fodor's Choice award. Situated on the corner opposite the Verizon Center exit of the Gallery Place-Chinatown station, the Hotel Monaco is inside what was once the Tariff Building, built in 1839 by the same architect who designed the Washington Monument. The neo-classical facade belies the interior of the hotel, however, with its much-noted eclectic sense of design.
Washington Wardman Park Marriott
The biggest hotel in Washington, DC, the Wardman Park is directly opposite from the Woodley Park station. Guests do not need to use the Metro to visit the National Zoo, however, as they are already at the recommended Metro stop, with the Zoo only a five minute walk up Connecticut Avenue. Rooms in the oldest part of the hotel, dating back to 1918, have high ceilings with crown moldings and antique furnishings.