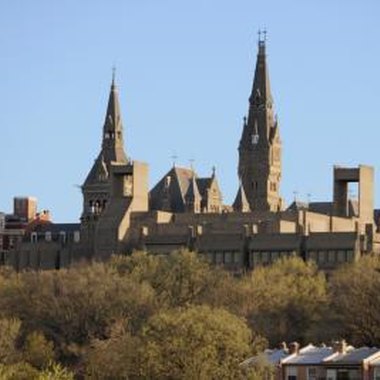 Georgetown is a popular Washington, D.C., neighborhood founded in 1751 and lying along the Potomac River waterfront. Over the years, Georgetown's stately Victorian-era rowhouses have been home to the rich and famous, including former President Jack Kennedy and his wife, Jackie, as well as actress Elizabeth Taylor. Accommodation options are plentiful in Georgetown, and the area also is a popular nightspot with many restaurants and bars. This area has a youthful vibe thanks to its many George Washington and Georgetown University students.
Upscale Chain Hotels
Georgetown is considered one of the most desirable areas to both live and stay while in D.C. As such, a number of high-end hotels can be found in Georgetown, including the the Four Seasons Hotel, Washington D.C., the only D.C. hotel to earn five stars from the Forbes Travel Guide. This hotel has 222 rooms ranging in size from the Superior Room's 350 square feet to the Royal Suite's 4,000 square feet. The rooms feature marble or French limestone bathrooms and beds with down duvets and down pillows. The elegant Four Seasons has a fitness club, a lap pool and a steakhouse on site and offers complimentary morning coffee or tea service.
Modest Chain Hotels
Several hotel chains that cater to travelers looking for modest and relatively affordable lodging have locations in Georgetown. Nightly rates at these hotels are usually lower than other D.C. hotels with more luxurious amenities, but might still be higher than similar lodging in other cities. The Best Western Georgetown Hotels & Suites is one mile from both Georgetown and George Washington universities. It is an all-suites hotel that provides a complimentary continental breakfast. It also offers special rates for military and government personnel, and has special package rates, including one for visiting students and their families.
Pet-Friendly Hotels
Several Georgetown hotels are pet-friendly, including the Ritz-Carlton Georgetown. This hotel is in the heart of Georgetown, near the Washington Harbor, and welcomes pets under 35 lbs. The charge for pets, as of 2010, is $125 per animal for your entire stay. Rooms at the Ritz-Carlton feature feather beds and 400-thread-count Egyptian linens. The 86-room hotel has a complimentary towncar service to areas within Georgetown.
Boutique Hotels
Some travelers dislike the sameness of chain accommodations, preferring the individual charms of boutique hotels. The 96-room, European-style Georgetown Inn is a boutique hotel that sits in the midst of Georgetown, close to the waterfront. The Georgetown Inn has a fitness center and on-site restaurant, the Daily Grill. This hotel also features in-room day spa services such as massages, hand and foot treatments and facials for an extra fee.
Photo Credits
Medioimages/Photodisc/Photodisc/Getty Images