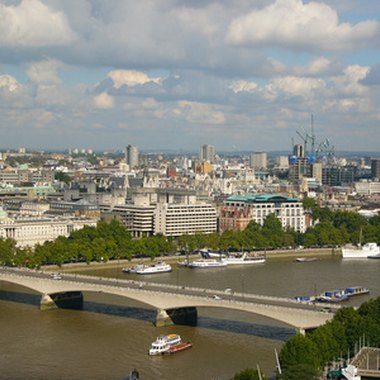 Opened in 1870, the Victoria Embankment runs for a mile along the north bank of the River Thames as it flows from the Houses of Parliament to Blackfriars Bridge. Often simply called the Embankment, the street has three London Underground stations, so it is well connected to all parts of the city. Right in the center of London, this is not an area to hunt for bargain hotels, but if you can afford luxury, it's a desirable location.
The Royal Horseguards Hotel
Just five minutes' walk from the Houses of Parliament and Trafalgar Square, the Royal Horseguards Hotel won the AA London Hotel of the Year 2010–2011 award. The National Liberal Club, with members including Sir Winston Churchill, once occupied this splendid 19th-century Gothic building. The hotel overlooks Victoria Embankment, the Thames and the London Eye on the river's south bank. The hotel's One Twenty One Two Restaurant serves a menu with gourmet dishes from Britain and France.
Swissotel The Howard London
A top-hatted doorman greets you at the main entrance of the Howard, which overlooks Victoria Embankment. All of the rooms are furnished in contemporary design, and some of the luxury rooms and suites have terraces with views across the River Thames. The 12 Temple Place Restaurant serves modern British cuisine and has outdoor seating in the hotel's internal courtyard garden. The Howard is next door to London Underground's Temple Station, which offers connections to destinations throughout the city.
The Savoy, A Fairmont Hotel
Reopened in October 2010 after a $350 million refurbishment, the Savoy, one of London's top hotels since it first opened in 1889, offers a luxury experience to the well-heeled traveler. Built in ornate Edwardian style and featuring Thames and city views, the hotel is set just back from the Embankment, a short stroll from the National Gallery on Trafalgar Square. It's also over the road from the London Transport Museum, home to a fascinating collection of trams and buses from a bygone era.
One Aldwych London
One Aldwych, a three-minute walk from Victoria Embankment, is set in a fine Edwardian building originally designed in 1907 as headquarters for the long-defunct "Morning Post" newspaper. The hotel features a basement swimming pool and a health club and spa. The Axis Restaurant offers fine dining, while the Indigo serves a modern European menu in an informal setting. The Royal Opera House is just around the corner and nearby theaters include the Lyceum, the Aldwych and the Theatre Royal.
Photo Credits
Birds eye view of Thames image by Elzbieta Sekowska from Fotolia.com