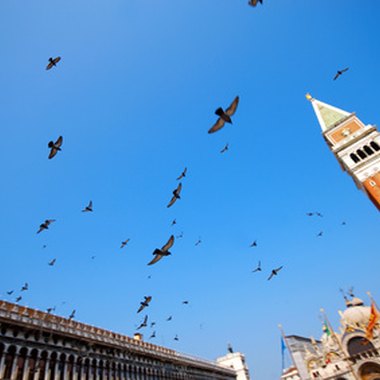 Venice's Piazza San Marco -- or St. Mark's Square -- attracts more than 20 million visitors a year. Many arrive by cruise ships or on day trips to visit what Napoleon once called "the finest drawing room in Europe." These tourists swarm the plaza and wait in long lines to visit St. Mark's Basilica or the Doge's Palace. Savvy travelers know that to truly experience Venice, they need to stay at least one night and enjoy the piazza before and after the large crowds disappear each day. For convenience and to enjoy the full charm of the plaza, choose a hotel near St. Mark's Square.
Staying in St. Mark's Square
If you want to stay in the only hotel that is actually located in St. Mark's Square, choose the Hotel Concordia. Book one of its rooms with a view of the plaza and watch it awaken each morning, as vendors arrive to set up their goods and lively chatter starts to fill the air from the streets below. The back of the hotel faces the plaza, so you will have to go around to the the other side to enter the lobby. Make sure to get a bellman to help you tote your luggage up the stairs since there is no elevator from the street to the lobby. This is a quietly elegant hotel with Old-World charm.
Large Hotels on the Lagoon
For convenience and waterfront views, choose a hotel that sits on the lagoon near one of the water bus (vaporetto) stops. One of the larger choices is the Hotel Danieli, a 225-room hotel that consists of three interconnected palaces. This luxury hotel is near one of these stops, which means guests will only have to tote their luggage a short distance to reach it. Additionally, Hotel Danieli has a private dock where water taxis can pick up and drop off guests. The hotel is a short walk from St. Mark's Square and offers lagoon-view rooms. Added touches such as Murano-glass chandeliers and marble in the bathroom give the Danieli a luxurious aura.
Small Hotels on the Lagoon
If you prefer a smaller hotel, choose the 30-room Locanda Vivaldi, which is also located on the lagoon and near the same water bus stop as Hotel Danieli. Locanda Vivaldi also has a private dock for water taxi pickups and drop-offs. This small, historic hotel was once the residence of the famous Italian composer Antonio Vivaldi. Locanda Vivaldi is within short walking distance from St. Mark's Square and the Bridge of Sighs and offers rooms with views of the lagoon. You won't feel like one of the masses in this quiet, lovely little boutique hotel.
On the Grand Canal
Venice's approximately 2-mile-long Grand Canal is, as its name implies, one of its major waterways. Guests staying at a hotel situated on the Grand Canal and within walking distance of St. Mark's Square will be near two of Venice's most iconic sites. The 100-room Hotel Monaco & Grand Canal Venice offers guests not only views of the Grand Canal, but also of the island of San Giorgio and the Church of Santa Maria della Salute and is within easy walking distance of St. Mark's Square. This hotel manages to mix modern touches with the historical building to give it a unique character.
Behind the Square
During the day, the front of St. Mark's Square is besieged by tourists, as are the walkways that line the lagoon area. Visitors who wish to stay near the plaza but don't want to be serenaded by the cacophony of the crowds may want to stay in a hotel located behind it, such as the Best Western Albergo Cavalletto and Doge Orseolo. This hotel is located on a small canal just across a small stone pedestrian bridge and a short walk from the plaza. A gondola stand sits in front of the hotel, and the watercraft gliding by add a romantic touch to the hotel's setting. The Cavalletto is a charming and well-located hotel.
Things to Consider Before Booking a Room
Most of the guest accommodations in Venice are housed in older buildings. Although some have been extensively updated and contain modern conveniences, others have not. Before you book, check to see whether your prospective hotel in St. Mark's Square offers certain amenities that are important to you, such as air conditioning or elevators, for instance. Travelers should also check to see if the location of their hotel will be easy to find and convenient. Because transportation in Venice is limited to pedestrian or watercraft means, travelers may have to tote luggage a long distance through crowds of people, over bridges, steps, and down narrow back streets to their hotels. Some hotels do offer water taxi docks, but this form of transportation can be pricey.
Photo Credits
flying pigeons on st. marcus square in venice image by Tomo Jesenicnik from Fotolia.com