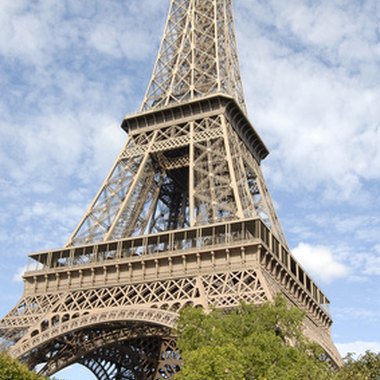 A trip to Paris would not be complete without a visit to the Trocadero District, known for its museums and flair for the avante garde. Long a favorite among the art crowd and the intelligentsia, the area boasts a great many unusual and reasonably priced hotels. In the heart of the city, Trocadero affords terrific views of the Eiffel Tower and access to some of the best shopping and outdoor markets in Paris.
Best Western Au Trocadero
For those who prefer an American-style hotel experience in the 16th Arrondissement, the Best Western Au Trocadero is a good choice. Close to the Eiffel Tower and the boutiques on the Esplanade de Trocadero, the hotel only has 27 rooms, but each one -- even those with single beds -- is equipped with at least a small desk as well as as a flat-screen TV and free Wi-Fi. The wood decor is comfortably modern, and the faux marble bathrooms are spacious and clean. Reasonably priced for this district, the hotel offers 24-hour room service, concierge service, cocktail lounge and a small garden.
Radisson Blu Le Dokhan's Hotel
Combining modern amenities with 18th-century furnishings, Radisson Blu Le Dokhan's Hotel is a former private mansion that is home to Paris' first champagne bar. The romantic rooms have fabric wall coverings, Italian showers, free Wi-Fi and discreetly concealed flat-panel TVs. Full breakfast and light lunch are served in the lounge as well as afternoon tea. A short stroll from the Arc de Triomphe, the Champs Elysees, the Eiffel Tower and many museums, the hotel has its own art collection that includes engravings by Picasso and Matisse. Although not cheap, it is far more affordable than, say, the George V, and nearly as elegant. Plus, you can bring your dog.
Etoile Trocadero
Just off Trocadero Square, the Hotel Etoile Trocadero is a three-star wonder with rooms bookable online for about the price of a good dinner for two with a bottle of wine. The decor is modern, somewhat spare, but it is clean and the service is reputable. The hotel has no restaurant or bar. But a generous complimentary breakfast of pastries, juices, hot chocolate, fruit, tea and coffee is served in the stone cellar.
Hotel Villa Glamour
Near the old haunts of Marlene Dietrich and Greta Garbo, tiny Villa Glamour features colored lights, red velvet walls and a hodgepodge of antique furnishings. It's a bit dingy on the outside, but the staff is charming. Plenty of clean towels are provided, free Wi-Fi is available and breakfast is served in your room. It's a bargain, with rates about the same as an average U.S. roadside motel.
References
Photo Credits
tour Eiffel - Eiffel tower image by AlcelVision from Fotolia.com