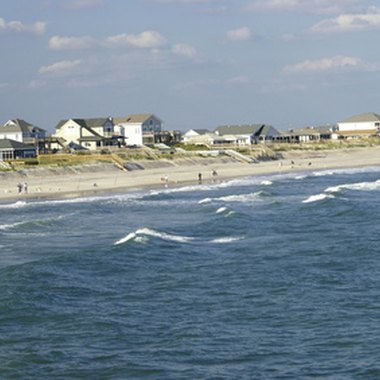 Topsail Island -- pronounced "Tops'l" -- is a 26-mile-long barrier island off the coast of North Carolina between Wilmington and Jacksonville. Most accommodations that serve the island are motels that place guests near the clean sandy beaches and Surf City, the busiest of the three small towns on the island. The exception is the Holiday Inn Express Sneads Ferry, located on the mainland just one mile off Topsail Island and accessible by bridge.
Topsail Island Inn
Located in Surf City in the center of the island, the Topsail Island Inn is one block from the beach, where visitors can scuba dive, snorkel and kayak. The Inn, nestled between restaurants and shops, offers complimentary Wi-Fi, a pool and the appliances needed for simple meals and cold drinks in its rooms. From this central location, guests will find it easy to rent bikes and sporting equipment, get fishing licenses (salt water fishing licenses are required in North Carolina) and walk to nearby restaurants for fresh seafood. A highlight of a visit to Surf City is a tour of Missiles and More Museum, which is open from April through mid-October; see the website for specific hours. The museum illustrates Topsail Island's history as the site of the US Navy's Operation Bumblebee, a secret missile project conducted on the island from 1946 to 1948. Highlights include an Osprey Aircraft exhibit, a barrier island exhibit and areas dedicated to Native American and pirate history.
Jolly Rogers Inn & Fishing Pier
Serious fishermen may consider staying at Jolly Rogers Inn & Fishing Pier at the south end of the island in Topsail Beach. The inn offers 65 oceanfront rooms, efficiency units and suites -- most with balconies. Guests have direct beach access and can fish year-round at the Pier, which has restaurants, shops and a tackle shop for supplies, licenses and tips on the best places to fish. Other nearby attractions include a skating rink and a miniature golf course. Attractions include Karen Beasley's Turtle Rescue and Rehabilitation Center, which is open for free tours from 2 to 4 p.m. Monday, Tuesday and Thursday through Saturday from April through mid-October. Guests on Topsail who spot turtles nesting in the sand during the summer months are asked to call and report the location 910-470-2880 and watch over the nest until rescuers arrive.
Tiffany's Motel
Tiffany's Motel, located in Surf City, is owned and operated by a North Carolina family. The motel has rooms, junior suites with kitchens and two-bedroom suites with kitchens (some with king-size beds). Amenities include two outdoor pools and a sundeck. Restaurants, quaint shops and other entertainment are within close walking distance. If you're going to Tiffany's via the old-fashioned swinging bridge, the Chamber of Commerce recommends that you do so on the half hour, since the bridge opens on the hour and lines are longer. Visitors can also access Topsail Island from Sneads Ferry on the mainland via the high rise bridge into North Topsail Beach.
Holiday Inn Express Sneads Ferry
If you're a fan of Holiday Inn Express, there is one in Sneads Ferry, which is located on the mainland one mile off Topsail. The hotel has an on-site golf course (North Shore Country Club), pool, business center and guest privileges at a nearby fitness center. The hotel, which offers free high-speed Internet and a complimentary breakfast of coffee, juice, cereal and homemade cinnamon rolls, is near several restaurants, including Cheri's Steakhouse, Clamdigger Restaurant and Riverview Cafe & Restaurant.
Photo Credits
topsail island view image by Penny Williams from Fotolia.com