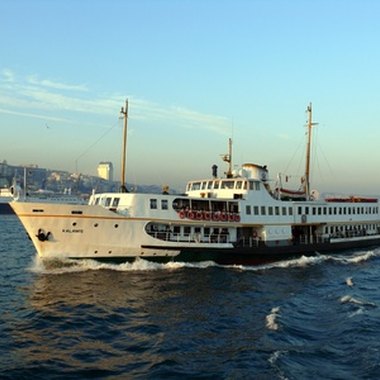 Often referred to as the "Heart of Modern Turkey," Taksim Square is a must-visit destination because of its distinctive mix of old and new. The Square dates back to 1732 when a stone reservoir--still visible--was erected to distribute Istanbul's water supply. It is now considered a main hub for shopping, entertainment and dining adventures. Pedestrian streets, including Istiklal Caddesi and Cumhuriyet Caddesi, fan out from the Square and are lined with boutiques, Turkish bazaars and galleries selling a plethora of textile goods, fashionable designer and made-to-order clothing, artisan jewelry and original works of art. Restaurants offer fresh foods prepared with bold flavors in the multicultural style of Turkish cuisine while area nightlife attracts both locals and tourists, including Hayal Kahvesi, a popular bar featuring live performances by Turkey's most successful bands.
The Marmara Taksim
The Marmara Taksim hotel is situated on one of Istanbul's "Seven Hills," or terraced high points, and is adjacent to Taksim Square. Unique to this area of Istanbul is the hotel's height. It rises 20 stories above Taksim Square and provides unmatched views of the city, the Bosphorus Strait and Istanbul's natural harbor, Golden Horn. Standard deluxe rooms feature a walk-in closet and wireless Internet access. As with other upscale hotels in the Marmara Hotel chain, bathroom amenities include bathrobes and oversized bath towels. Nonsmoking rooms are available only on request. The hotel's on-site dining options include dinner and a view in the upscale rooftop restaurant and lounge featuring live music and Turkish cuisine. A buffet-style restaurant overlooking the Square, cafe and lobby bar provide street-level dining options. Fitness facilities include modern gym equipment, full-service spa, solarium, Turkish bath, sauna, Jacuzzi and outdoor swimming pool.
Witt Istanbul Hotel
Considered a boutique hotel, the Witt Istanbul Hotel features only 17 spacious (600 square feet) apartment-style guestrooms for the cost of a regular hotel room. Because of the hotel's location in the trendy neighborhood of Chihangir, guests experience local culture with easy access to populated Taksim Square. For this reason the Witt Instabul was recognized by "Conde Nast Traveler" on its 2009 Hot List. Aside from hotel amenities, guests enjoy a lively arts scene and trendy cafes within walking distance of the hotel.
The Madison Hotel
The Madison Hotel, a short stroll from Taksim Square, offer travelers a more traditional hotel experience with 106 suites and standard guestrooms. Rooms feature double beds and are nonsmoking. The hotel has conference facilities and complimentary wireless access. Guests can take advantage of a full-service health club, indoor swimming pool, Turkish-style bath and spa massage services. Hotel dining facilities include a full-service restaurant, buffet breakfast and lobby lounge; 24-hour room service is also available.
Pera Palace Hotel
Experience historic Istanbul just one mile south of Taksim Square. The Pera Palace Hotel was built in 1892 to accommodate pampered travelers from the Orient Express. Service standards continue in this vein and offer guests 19th-century fixtures mixed with modern-day amenities. Famous guests have included Ernest Hemingway, Greta Garbo and writer Agatha Christie. According to the hotel's website, Christie's novel "Murder on the Orient Express" is thought to have been inspired by the hotel's early guests. Atypical of standard hotels, rooms feature high ceilings and antique furnishings. On-site dining includes a full-service restaurant, café, tea lounge and bar. The hotel's spa contains a workout room, steam bath, Jacuzzi, sauna and indoor swimming pool.