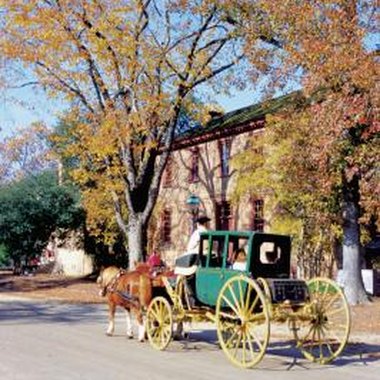 Williamsburg, Virginia, particularly Colonial Williamsburg, is a top destination for history buffs. Long ago, this city was the capital of Virginia and holds many cherished memories of the country's bygone days. Colonial Williamsburg, Busch Gardens, the College of William and Mary, Belle Air Plantation Home, the Williamsburg Winery and outlet shopping are some of the main draws for this character-rich area. Williamsburg provides numerous hotels and suites to cater to various needs and budgets, for both business and vacation travelers. Many of the accommodations feature Colonial era-style décor and furnishings.
Williamsburg Hospitality House
On Richmond Road near the historic district, the Williamsburg Hospitality House is an upscale, well-known hotel with classic accommodations. Standard rooms offer coffee makers, ironing boards and hair dryers. In addition to the hotel rooms, this venue offers a conference center to cater to business gatherings. Getting to Colonial Williamsburg, the large and highly educational and entertaining historic area, is just a two-block walk. The College of William and Mary is across the street.
Westgate Historic
The Westgate on Richmond Road, an easy walk to the downtown historic district, delights guests with a Colonial theme and luxurious accommodations. Visitors enjoy an outdoor pool and Jacuzzi, fitness center, playground for the kids and an activities department. Hotel rooms feature coffee makers, refrigerators, DVD players and satellite television. Guests can choose studio units with full kitchens, one-bedroom suites with Jacuzzis and kitchens or two-bedroom suites with kitchens, Jacuzzis and sleeping space for six people.
Best Western
Just one mile from Colonial Williamsburg is the Best Western, an affordable option for travelers to the area. This hotel offers free continental breakfast, an indoor swimming pool and a Jacuzzi. All guest rooms provide a refrigerator, microwave and coffee maker. Shopping, restaurants and all area attractions are nearby.
Clarion Historic
The Clarion Hotel Historic on York Street is a nonsmoking hotel that provides coffee makers, hair dryers and iron/ironing boards in all rooms. An on-site restaurant and cocktail lounge, as well as room service, provide added convenience for guests. Local shopping, sightseeing, restaurants and museums are an easy distance from this hotel.
Country Inn & Suites
Guests can select from standard hotels rooms or one-bedroom suites at the award-winning Country Inn & Suites, centrally located in Williamsburg's historic area. All rooms offer coffee maker, refrigerator, hair dryer and iron/ironing board. This property attracts both leisure and business travelers.
Embassy Suites
Travelers looking for suites gravitate toward Embassy Suites, which is the only full-service, all-suite hotel in Williamsburg. Perks include a free cooked-to-order breakfast, as well as a free daily cocktail reception. Inside the suites are various conveniences, such as living rooms with sleeper sofas, 32-inch LCD HDTV and dining tables. Bathrooms have marble vanities, and guests relax on 200-thread count bed linens.
Quality Suites
As the name implies, Quality Suites houses all suites on the property. Two double beds plus a sleep sofa provide ample sleeping space in each suite. Microwaves, refrigerators, coffee makers and hair dryers are other amenities in all suites.
Homewood Suites
Near to all area attractions yet far enough to provide some peace and quiet, Homewood Suites houses one- and two-bedroom suites. Each suite has a full kitchen with coffee maker.
Hampton Inn & Suites
Guests can stay in either standard hotel rooms or studio suites at Williamsburg's Hampton Inn and Suites, a property that opened in 2006 about a half mile from the historic area. A daily full breakfast, including eggs, fruit and yogurt, is served. To help visitors relax and stay active while traveling, the property features an indoor pool, whirlpool and fitness room. Rooms include pillowtop mattresses, microwaves, refrigerators, coffee makers and workstations with dataports.
Springhill Suites
Rain or shine, guests at Springhill Suites can take a dip in the property's indoor pool and hot tub, or stay in shape in the exercise room. Free hot breakfast is served daily. At this all-suite property, rooms are larger than typical rooms at other properties. Suites offer guests a pantry area with a sink, refrigerator, coffee maker and microwave, and there are separate eating, sitting and sleeping areas.
Photo Credits
Medioimages/Photodisc/Photodisc/Getty Images