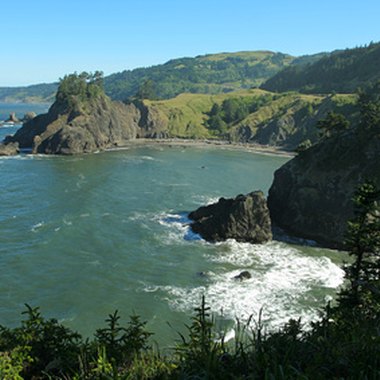 The Pacific Northwest attracts numerous urban outfitters with a zeal for the Great Outdoors, wildlife, recreational adventure, nature, art, and wineries. The Oregon Coastline, which spans over 360 miles, features multiple hotels and luxurious accommodations for travelers. Whether guests are interested in a relaxing getaway or outdoor exploration, the Oregon Coast provides accommodations for travelers of all types.
Upscale Lodgings
For guests seeking a little luxury to go along with the panoramic ocean views, the Oregon Coast features premier oceanfront accommodations with services and amenities that pamper every tourist. The Cannery Pier Hotel, The Stephanie Inn, The Tu Tu Tun Lodge, and the Ocean Lodge provide business travelers and couples seeking a getaway with chic and elegant accommodations. Guests can indulge in spa treatments from AAA four-diamond rated establishments like The Tu Tu Tun Lodge and The Stephanie Inn. All these premier hotels are nestled within the Oregon Coastline and feature lush landscapes with opportunities for hiking, biking, fishing or kayaking.
Golf Resorts
Salishan Spa and Golf Resort, a AAA four-diamond hotel, has more than 200 upscale cabin-like suites with natural surroundings. Individuals and groups interested in playing at one of the top courses in the area should consider the Salishan, whose seasonal golf packages include unlimited golf. In addition those interested in a little pampering can choose one of the spa packages that restore, revitalize and rejuvenate the spirit. The hotel also provides guests with an opportunity play at the tennis center or workout at the pool & fitness center.
Eco-Friendly Relaxation
The WildSpring Guest Habitat features a cozy resort that offers guests luxury cabin suites overlooking the south coast. The development and design of these suites focused on using eco-friendly methods such as low energy or energy-efficient appliances, non-toxic and all-natural materials, and organic products whenever possible. Individuals and couples interested in a relaxing and intimate environment amongst a serene, tranquil and woodsy setting should consider booking a retreat at this venue. Guests can take part in a Drumming Native American Flute Circle, Thai Chi or guided meditation sessions.
Budget Friendly
Hotels such as the Shilo Inns Suites Hotel, The Best Western Agate Beach Inn and The Dublin House provides guests simple, cozy lodgings along the Oregon coastline. These hotels offer friendly environments and features basic services and amenities to make a traveler's stay more comfortable.
Photo Credits
cove, oregon coast image by Carbonbrain from Fotolia.com