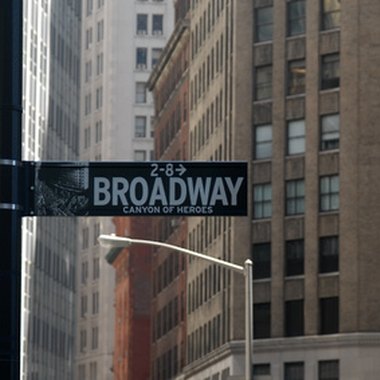 New York City is separated into several districts, each containing different types of hotels, from boutique-style, to luxury and budget. If you're staying in the theater district, many hotels can be found near Times Square and Broadway, while hotels in the Diamond District are near Fifth and Madison Avenue, where a large portion of the city's shopping can be found.
Theater District
Centrally located in the Theater District, the Belvedere Hotel offers 334 guest rooms decorated in warm tans, dark wood furnishings, leather couches and oversize windows. Suites include king-size beds, kitchenettes, two bathrooms including a whirlpool bathtub and free Internet access. The on-site Brazilian steakhouse, Churrascaria Plataforma, is open daily for lunch and dinner and prepares a variety of cuts of meat. The Washington Jefferson Hotel's suite rooms include separate living rooms, whirlpool bathtubs, iPod docks and free Internet access. Hotel services range from valet parking to a fitness center and an on-site Japanese restaurant that prepares sushi daily. If traveling over the holidays, many of the hotel's specials and discounts are available during the fall and winter months around Thanksgiving and Christmas.
Diamond District
The 22-story Holiday Inn Express New York City Fifth Avenue provides three smoke-free suite rooms that consist of two bedrooms with free Internet access, separate living rooms with sleeper sofas and two closets. Amenities include a complimentary breakfast, a business center with Internet access and copying services, and dry cleaning services. The hotel's location just off of Fifth Avenue makes it within walking distance to area attractions, such as Rockefeller Plaza, a seven-minute-walk away, and Bryant Park, an eight-minute walk. Stepping into Mansfield Hotel is like taking a step back into the early 1900s of New York City with its bookcase-lined lobby walls and dome-lit ceiling in the cocktail lounge. The Club Row Suite offers a bedroom and living room separated by glass- etched doors. The suite includes leather furnishings, a queen-size bed with a pillowtop mattress, free Internet access and two TVs. Hotel amenities range from an on-site espresso bar to a business center.
Financial District
Within walking distance to Wall Street and Federal Hall, Andaz Wall Street provides rooms with stark white walls, light-wood furnishings and small pops of color throughout. The Andaz suite is a loft-style accommodation with views of Hanover Square. Suites include a wet bar, two bathrooms, free Internet access, king-size beds and two TVs. If interested in a slightly larger suite, the buttonwood suite also includes a full-kitchen and dining area. The hotel offers complimentary wine at check-in, laundry services, fitness center and an on-site spa. As of 2010, hotel packages include discounts on second rooms and a daily breakfast at the nearby Wall and Water Restaurant. The seven suite rooms at the 38-story New York Marriott Downtown Hotel offers free nonalcoholic drinks, mini-refrigerators, king-size beds and small dining areas. On-site services include overnight delivery services, newspaper delivery and dry-cleaning. With its central location in the Financial District, the hotel is within walking distance of Ground Zero and the New York Stock Exchange, both a six-minute walk away.
Meatpacking District
The Standard is a boutique-style hotel in New York's Meatpacking District. The hotel offers two style of suites; the liberty suite and empire suite. The liberty suite consists of an open floor plan lined with paneled wooden walls and includes iPod docks, a circular platform bed and a bathtub for two. The empire suite consists of black, shag-like carpet, white walls and views of midtown Manhattan. Additional amenities include a deep bathtub where you can look out at the Empire State Building, a powder room and a king-size bed. Hotel amenities include three on-site restaurants, such as the Standard Grill, which prepares avocado soup and swordfish. The six-story Soho House New York is one of the few hotels in the city that offers a swimming pool. Each of the 24 guest rooms are individually decorated with chandelier lighting, king-size beds and free Internet access. The playground rooms include showers for two and a separate seating area with velvet couches. A screening room and library add to the hotel's amenities.
Photo Credits
broadway avenue, manhattan, nyc image by Albo from Fotolia.com