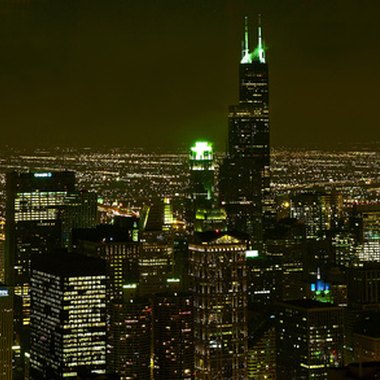 Travelers can realize several benefits to staying in the suburbs rather then inside the city of Chicago, Illinois: less traffic, smaller crowds and plenty of parking. Some of the suburban hotels, such as Evanston, home to Northwestern University; and Rosemont, located by O'Hare, provide similar upscale amenities that you would find in the city. Some suburbs are less than 20 miles from downtown Chicago.
Rosemont Hotels
A northwestern suburb, Rosemont is a five-minute drive from the Chicago O'Hare International Airport and six miles from Chicago. The Hyatt Rosemont is a boutique hotel with 206 rooms. Guest Rooms provide iPod docks, Internet access and mini-refrigerators. Located on-site, the contemporary Networks Restaurant prepares sandwiches, salads and pasta dishes. Nearby attractions include the Allstate Arena. White Pines Golf Course is 10 miles away. The Holiday Inn Express Hotel and Suites Chicago O'Hare offers a complimentary airport shuttle service. Hotel amenities include a spacious fitness center with TVs on the workout equipment, an indoor swimming pool, a sundeck and a game room. Guest rooms provide complimentary Internet access, iPod docks and video games; suites include kitchenettes. All rooms are decorated with white bedding, warm yellows and soft reds. The hotel is 13 miles from Chicago's Museum of Science and Industry.
Evanston Hotels
Evanston, a northern suburb on the shores of Lake Michigan, is 13 miles from the center of Chicago. The Hilton Garden Inn Chicago North Shore is less than one mile from Northwestern University and 10 miles from the Lincoln Park Zoo. The hotel provides 178 guest rooms with kitchenettes and free Internet access. Hotel services include an on-site restaurant, open for breakfast and dinner, an indoor swimming pool and laundry facilities. The Great American Grill offers a breakfast buffet and a dinner menu consisting of pizza, sandwiches and salads. Built in 1927, the Margarita European Inn provides an elegant feel with the dark furnishings in the library, arched windows and crown molding throughout the hotel. The hotel was once the home of working business women before being transformed into the 42-room accommodation. The individually decorated rooms include ceiling fans and sitting areas; some rooms have shared bathrooms. The hotel's location near Northwestern University, one mile away, makes it hot spot for the students' parents. If traveling for graduation, reservations are recommended at least one year in advance.
Skokie Hotels
Skokie is a northern suburb 15 miles from downtown Chicago. The Doubletree Hotel and Conference Center Chicago North Shore is within walking distance to the Westfield Shopping Center and the North Shore Performing Arts Center. Guest rooms include free Internet access, down pillows and couches in the seating areas. An indoor swimming pool and fitness facility are included in the hotel's recreational activities. The 225 rooms in the Hampton Inn and Suites Chicago North Shore contain complimentary Internet access, recliners and mini-refrigerators. The hotel features an indoor swimming pool, a sauna and a hot tub, plus Nintendo game systems to entertain younger guests. Additional amenities include business services, a complimentary breakfast and a gift shop. The hotel is 12 miles from the Chicago Botanical Garden and 13 miles from Wrigley Field, home of the Chicago Cubs.
Glenview Hotels
Located in the northern suburb of Glenview, the smoke-free Wyndham Glenview Suites offers suite rooms with separate living rooms, free Internet access, kitchenettes and wet bars. The hotel provides 10 designated pet-friendly guest rooms. After a day of sightseeing, guests can relax at the on-site indoor swimming pool and hot tub, and dine at the onsite Legends Bar and Grille and Porter's Bistro. Horse-racing fans can find Arlington Park nine miles from the hotel. Chicago is approximately 19 miles from Glenview, Illinois. The Fairfield Inn Chicago Glenview Hotel provides services such as a complimentary breakfast, an outdoor swimming pool and a fitness room. The 134 smoke-free rooms contain king-sized beds, free Internet access and a small sitting area with a chair and ottoman. The hotel is less than one mile from local restaurant including Empire Szechwan and the casual American-style PJ Moondoggies.