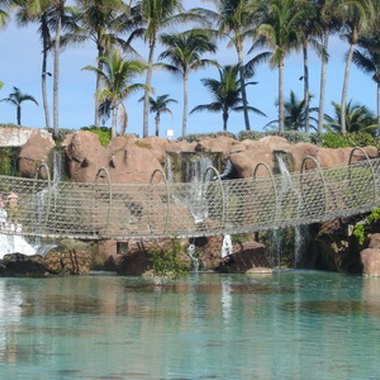 Consisting of 29 islands in the Atlantic Ocean, the Bahamas offers no shortage of hotels. The location where Christopher Columbus first made landfall in the Americas, the Bahamas is populated with diverse, multi-cultural residents who love the island life and all it offers. Following the islanders' lead, the hotels and hospitality industry in the Bahamas also has adopted a state of mind that allows visitors to leave all of their worries behind.
Hotel Riu Palace Paradise Island
The all-inclusive Hotel Riu Paradise Island is located on a 3-mile stretch of beach on the Bahamas' Paradise Island. Surrounded by the area's colonial-style buildings, this hotel is close to area casinos, local nightclubs, an aquarium, a water park, duty-free stores and the town of Nassau. All of the suites at the Hotel Riu Paradise Island have an ocean view, turndown service and a liquor dispenser in addition to a mini-bar.
The Landing
The Landing is boutique hotel styled like an inn and is located on the Bahamas' Harbour Island, just northeast of Eleuthera. The hotel, whose property was built in the 1800, overlooks Dunmore Town harbor and is a five-minute walk from the island's pink, sandy beaches. The Landing's rooms have a classic Caribbean- and plantation-style look to them with mahogany, four-poster beds draped in Indian cotton. The hotel provides its guests with a stocked library and an on-site restaurant and bar, which features award-winning wines, Cuban cigars and Caribbean rums.
Emerald Palms Resort
Adorned with 10,000 palm trees on the South Andros Island of the Bahamas, the Emerald Palms Resort is a beachfront, boutique resort perfect for those who do not need to fill their days with cruise ship-like activities. In keeping with the casual feel, hammocks hang on palm trees throughout the property. The large size of the Emerald Palms Resort, along with the fewer number of visitors to the location, allow hotel guests to feel like they are at paradise location discovered only by a lucky few. The resort provides special packages to guests wanting to fish in the ocean, go snorkeling or scuba diving. Bicycle and car rentals also are available.
Atlantis Resorts
When your favorite theme park met the Caribbean resort of your dreams, Atlantis was born. Inspired by the myths of the lost underwater world full of riches, the six Atlantis resorts are adorned with museum-quality work, including a piece by glass sculptor Dale Chihuly. The all-inclusive resorts offered by Atlantis bring the adventures of the Bahamian islands to guests of all ages. Visitors of Atlantis can enjoy the resort's on-site casinos, the world's biggest open-air marine habitat, a 14-acre dolphin habitat, a multi-acre water park, spas and top-of-the-line nightclubs.
Photo Credits
atlantis in bahamas image by Ritu Jethani from Fotolia.com