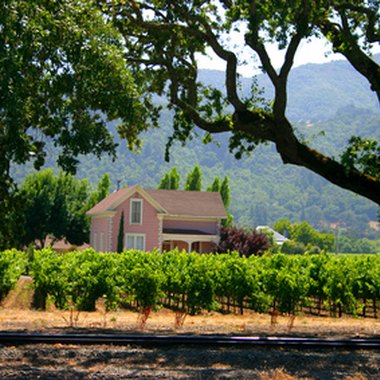 St. Helena's rich history dates back to settlement by the Native American Onastis tribes, who were later respected by Spanish and Mexican soldiers claiming the region for their brave, warlike culture. Mexican administrators eventually granted the land that would eventually become St. Helena to an English doctor, who sold the land piecemeal to American settlers. In 1846, settlers revolted against the Mexican government to claim California for the U.S., eventually establishing the area's first resort in 1852. Today, visitors to St. Helena enjoy the region's wineries, fine-dining restaurants and seasonal festivals.
Napa Valley
Napa Valley, Northern California's storied wine region, got its start from cuttings provided by the Sonoma and San Rafael, California, missions to local farmers. The wine region continues to be a major tourist draw among wine aficionados, with the grape harvest and crush from late August through early October a prime attraction. Visitors planning to visit during high season should make advance reservations, since accommodations can quickly sell out. Respected wines varieties grown here include Cabernet Sauvignon, Chardonnay, Merlot and Zinfandel, although limited-edition boutique blends are gaining popularity.
Garden Estate
Visitors to St. Helena's Harvest Inn can explore the hotel's eight acres of landscaped gardens, lawns, redwood groves and courtyards. The AAA-rated four-diamond venue features brick-and-wood lodgings, with views to nearby Whitehall Lane Winery's Leonardini vineyard and the Mayacamas Mountains. Some rooms come with patios, fireplaces and private, outdoor hot tubs, and there's an on-site wine bar offering weekend wine tastings for guests. Guests can cruise down the quiet bike lanes behind the inn to drink in surrounding vineyards and wooded hillsides.
Downtown St. Helena
Rustic Napa Valley has its own appeal, but part of St. Helena's charm lies in the small town's numerous restaurants, shops, boutiques and wellness spas. Hotel St. Helena, located in downtown St. Helena since 1881, provides convenient access for visitors interested in browsing through the town's attractions. With 17 rooms, the cozy hotel features antique decorations, quaint shuttered windows and natural accents of willow, wood and marble. Guests receive complimentary continental breakfast and free evening wine service.
Bed & Breakfast
The Victorian-themed Ambroise Bierce House Bed & Breakfast, established in 1872, lies within walking distance to Beringer Vineyards. Amenities include in-room hot tubs, fireplaces, in-room decanted port, champagne with breakfast and evening cheese-and-wine service. After a long day wine-tasting, guests can savor Napa Valley from beneath a redwood tree towering over the inn's outdoor patio. Breakfast includes waffles, stuffed French toast, homemade croissants and fresh fruit. Visitors traveling with additional guests can transform their suite's sitting room into a second bedroom with pull-out bed at no additional cost.
Photo Credits
sonoma and napa valley, california image by Chee-Onn Leong from Fotolia.com