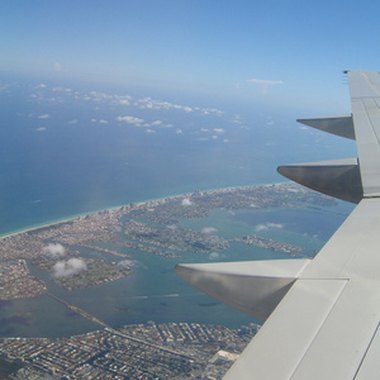 Miami is home to hundreds of hotels, including a selection of properties that offer complimentary shuttle service to Miami International Airport. Lodging choices consist of smoke-free suite hotels, budget-friendly properties, an upscale refuge that welcomes furry traveling companions, and accommodations for the hardworking business traveler.
Business Hotels
The Airport Regency Hotel provides 24-hour shuttle service to Miami International Airport. The hotel offers Regency Club rooms for business travelers, which include work desks and complimentary Wi-Fi access. Club level guests have access to the Regency Club lounge, which offers complimentary breakfast and evening receptions. Hotel amenities include a 24-hour business center and a full-service restaurant. The Hilton Miami Airport is surrounded by a freshwater lagoon and tropical gardens. Business accommodations consist of executive floor rooms with workstations, ergonomic office chairs, Wi-Fi access and 24-hour room service. Amenities include a business center with printing services and video conferencing facilities, tennis courts and complimentary airport shuttle.
Budget Hotels
Days Inn Miami International Airport also provides 24-hour shuttle service to the airport, as well as complimentary transfers to the Miami Merchandise Mart. Accommodations consist of traditionally decorated guest rooms with free Wi-Fi access, a game room for kids, an outdoor pool and restaurant. Comfort Inn Miami Airport Hotel is an affordable lodging-choice within minutes of the airport. The hotel's standard guest rooms include traditional decors and free high-speed Internet access, while two-room suites feature Roman bath tubs. Hotel amenities consist of 24-hour airport shuttle service and a complimentary breakfast buffet stocked with waffles, eggs, cereal, juices and coffee.
Smoke-Free Hotels
Hyatt Summerfield Suites is an all-suite hotel that provides the comforts of home. Guest suites include full kitchens with stainless steel appliances, DVD players and separate living areas. Guests of the hotel have access to complimentary hot breakfast buffets and evening socials with snacks and alcoholic beverages, a heated pool and airport shuttle service. SpringHill Suites Miami Airport is suite hotel that provides complimentary shuttle service to the airport and the Dolphin Mall. Accommodations consist of festive, Caribbean-inspired suites with complimentary high-speed Internet access and iHome docks. Hotel amenities include a small fitness room with cardio equipment and free weights, a heated outdoor pool and complimentary breakfast.
Pet-Friendly Hotels
Hotel Sofitel Miami is an AAA rated four-diamond property within a five-minute drive of the airport and approximately 10 minutes from the Port of Miami. Guest rooms feature trendy decor, marble baths, and skyline or pool views. Jr. Suites offer lagoon views, separate living areas and complimentary bottled water. Hotel amenities include airport shuttle service, 24-hour room service and La Riviera -- a gourmet eatery serving Mediterranean cuisine. Small pets are allowed for a fee. The La Quinta Inn Miami Airport North is within minutes of the airport, Hialeah Race Track and Miami International Mall. Guest rooms feature contemporary decor and complimentary Wi-Fi access, while suites offer pull-out sofas. Accommodations are inclusive of hot breakfast buffet and 24-hour airport shuttle service. Pets weighing 50 lbs. or less stay for free.
Resources
Hotel Sofitel Miami; 5800 Blue Lagoon Dr.; Miami, FL, 33126; 305-264-4888