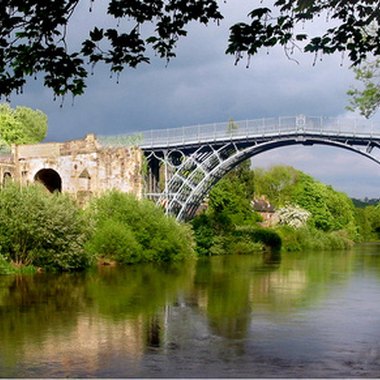 Hard against the Welsh Border Marches, Shropshire, in England's West Midlands, is one of the country's most beautiful counties. Medieval towns dot a pastoral landscape that has 32 castles, several highly regarded restaurants and, at Ironbridge, a UNESCO World Heritage site preserving the birthplace of the Industrial Revolution. The county has plenty of scope for all kinds of vacations--from romantic getaways and shopping breaks to family holidays.
The Mytton and Mermaid
Overlooking the Severn, England's longest river, this hotel near Shrewsbury, is a 17th century house with an interesting past. It was once owned by Sir Clough Williams Ellis, the architect who developed Portmeirion, setting for the cult 1960s series, "The Prisoner." Accommodations in the Mytton and Mermaid range from traditionally furnished suites, some with four-poster or Gothic-style beds, to simpler singles and doubles with contemporary furnishings. All have private bathrooms. Rooms have views of the river, the historic (and unused) Atcham Bridge, and the entrance to the National Trust's Regency property, Attingham Park.
Prince Rupert Hotel
This hotel was once home to Prince Rupert, son of King James I. Its 70 rooms and suites, all with private bathrooms, have such modern hotel amenities as flat-screen televisions and wireless Internet, but that's where modernity ends. This is an ancient house, full of character and rooms are highly individual, irregularly shaped and sometimes small. The 15th-century Tudor rooms have heavily beamed ceilings and half timbering but a real highlight is the Jacobean staircase that leads to the 12th century Mansion House suites. The Mansion House, which is incorporated into the hotel, is the oldest secular building in Shrewsbury, a town that has 660 historic, listed buildings.
Fishmore Hall
Fishmore Hall is a boutique country house hotel overlooking Ludlow. Restored in 2007 from a then derelict Georgian dower house, the hotel has 15 rooms with modern furnishings. The bathrooms have walk-in showers, double-ended baths, waterfall shower heads, and wet rooms (fully waterproofed areas with floor drains where the entire room becomes the shower enclosure). Room No. 7, declared by the owners the best room in the house, has an open plan wet area with a double-ended bath visible from the bed and a toilet area without a door--very trendy but perhaps not to everyone's taste.
Park Inn Telford
The UNESCO World Heritage site at Ironbridge, with its 10 living museums documenting the start of the Industrial Revolution, is a major family attraction in Shropshire. Surprisingly, family hotel accommodation in the area is hard to find, with most families staying in vacation rentals and self-catering cottages. The Park Inn in Telford, about four and a half miles away, is an exception. The hotel has a family play area and a family-friendly indoor heated pool. Baby cribs are available on request and the hotel can also provide interconnecting rooms for family groups.