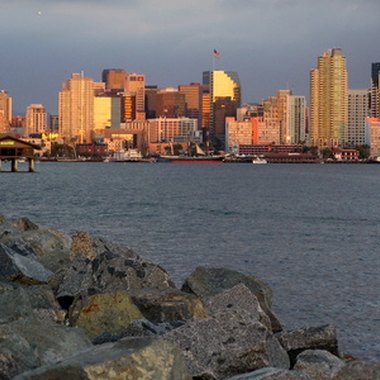 Business began booming in downtown San Diego during the 1960s: The city got its professional football team, completed a stadium arena in nearby Mission Valley, welcomed a University of California campus and opened the landmark Coronado Bridge, linking the slender Coronado Island peninsula to the mainland. It's still a busy place -- oversize jets craft gently toward the harbor-side airport, partygoers line up to enter Gaslamp Quarter nightclubs, and bicycle-powered pedi-cabs scoot visitors through crowded streets. Travelers hoping to avoid the hustle and bustle might stay in hotels at nearby San Diego Hotel Circle; these venues tend to be quieter and less expensive than downtown digs.
Extended Stay
Travelers with longer itineraries book studio suites at Extended Stay Hotels San Diego, Hotel Circle. Rooms come with a stove, microwave, fridge and utensils for whipping up home-cooked meals. Guests pay a nominal one-time fee for wireless Internet access, and the front desk helps out with mail delivery, photocopying and fax services. The Hotel Circle location makes it convenient to hop on the freeway and access the airport, downtown marina or nearby shopping centers in Mission Valley and Fashion Valley.
Budget
Travelers hoping to save money on accommodation stay at Travel Lodge San Diego Mission Valley/Hotel Circle, located just off the freeway. Outside, guests dip into an outdoor heated pool or hot tub, or relax beneath cabanas. Two on-site restaurants serve steak-and-eggs and cocktails. Free perks include wireless Internet access, parking and daily newspapers. Cruise ship passengers also save money on long-term parking; the hotel offers packages combining accommodation costs with one week's free parking while guests vacation.
Resort
Sunny Mission Valley, which surrounds Hotel Circle, is protected from chilly ocean winds and summer's perpetual marine layer, making it an ideal vacation spot for sunbathers and outdoor enthusiasts. Head outside to the hotel's three swimming pools, tennis courts and shuffleboard court. About 65 golf courses are located within an hour of Mission Valley, and several are moments away. Purchase packages for area attractions including the San Diego Zoo, SeaWorld and the San Diego Wild Animal Park. If you just want to chill out, then grab a bottle of wine from the on-site liquor store or book massage treatments at the resort's spa.
Events
Hotel Circle's central location makes a convenient meeting point for business conferences and private celebrations. At the Crowne Plaza Hotel San Diego, conference amenities include eight meeting rooms, slide projector, flip charts, white boards and stage lighting. On-site catering options include a Hawaiian-themed brunch and Mexican-themed fiesta. Guests access the hotel's exercise room, pool, hot tub, on-site salon and on-site car rental desk.