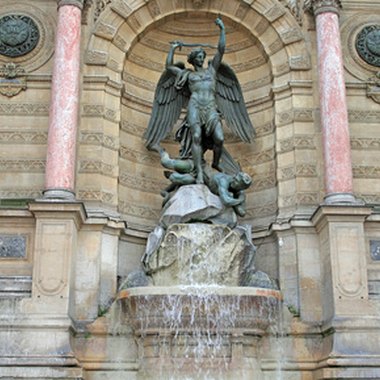 Saint-Michel is not just a street in Paris -- it is a neighborhood, an ambiance, a way of life. Running west from the Seine, the Boulevard Saint-Michel is a main artery of the famed Latin Quarter, the lively Paris "quartier" housing the Sorbonne University. "Saint-Mich" feels like a small village, with its winding streets, international restaurants and cafes. Hotels are tucked everywhere, from student hostels to luxury quarters, many from earlier centuries.
One-Star Bargain
Dehly's, a 15th-century hostel, is hidden away on a quiet pedestrian street a stone's throw from the Saint-Michel fountain. Dehly's offers 20 small rooms on five floors, most with showers. Budget travelers will appreciate the reasonable price, which includes a typical French breakfast; the proximity of the direct RER-B train to Orly Airport; and the charm of the 15th-century building. The lack of an elevator and shared bathrooms may limit its popularity.
Two-Star Charm
The Hotel du Lys is a converted 17th-century mansion, located a few blocks from Saint-Michel. Its strong point is old-world charm -- exposed oak beams, antique furniture and stone floors -- with a large lobby and quaint rooms decorated with floral tapestries. But like many quaint hotels, the Hotel du Lys has smallish rooms, no air conditioning, and a long, winding stairwell as the only access option. Classic continental breakfast included in its typical two-star price.
Three-Star Comfort
It looks like an elegant country house with its white shutters and lovely grounds. The Hotel des Grandes Ecoles is a quiet haven in the artsy west side of Saint Mich, near the Sorbonne. Many of the 51 rooms have large windows looking in to the rose-filled courtyard. Don't expect in-room televisions or air conditioning, and breakfast is extra. But baby-sitting is offered, pets are allowed, and the hotel hands out guest umbrellas when it rains.
Four-Star Splurge
The Hotel Relais Saint Germain is another intimate hotel in a 17th-century building, but it is distinguished by the elegance and spaciousness of the 22 sound-proofed rooms. Each room has a private bath -- albeit small -- air conditioning, Internet hookup, antique furnishings and satellite television. The hotel offers a "navette" (shuttle) from the airport and guarantees its guests a table at the excellent neighboring restaurant, Le Compoir, owned by the hotel.
Photo Credits
fontaine saint michel, quartier latin image by Emmanuelle Combaud from Fotolia.com