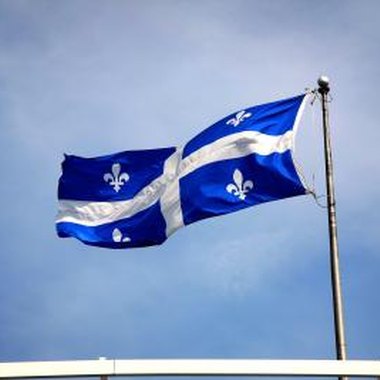 In tiny Saint-Hyacinthe, Canada, it's all about the music. As early as 1811, the Seminaire de Saint-Hyacinthe began offering music courses. Other convents followed suit, including the Sisters of the Sacred Heart, formed in 1842. The town's real claim to fame began in 1879. Samuel and Claver Casavant formed Casavant Freres, an organ manufacturing company whose instruments became known around the globe. Located just 50 miles east of metropolitan Montreal, Saint-Hyacinthe offers a limited selection of hotels and motels.
Hotel des Seigneurs
It may seem a bit of a surprise to find such a large hotel in the middle of a decidedly rural area. But there is room to spread out here, more so than in heavily populated Montreal or on the switchback, cobbled streets of Quebec City. The Hotel des Seigneurs offers both guest rooms and one-bedroom suites. Choose one of the 30 Atrium guestrooms and enjoy a private balcony that overlooks the 20,000-square-foot indoor tropical garden and pool area. Pathways in the garden lead you past half-hidden hot tubs, a sauna, shuffleboard courts and a children's playground. Book the Soothing Package and indulge in a one-hour massage at Le Sunset Spa, followed by relaxation time in the hot tub or sauna. Chocolates and wine are delivered to your room, and your four-course dinner at the on-site Les Quatre Saisons is included. Breakfast the next morning, either buffet or a la carte, and parking are also part of the package. A special package is also available for your pet. The hotel is on the northern end of town, just off Trans Canada Highway 20.
Hotel Le Dauphin
The facade of this 98-room hotel seems a bit understated, but the inside of the Hotel Le Dauphin is sleek, modern and sophisticated. Original artwork accents the lobby, furnished with living-room-style sofas, potted plants and recessed lighting. Rooms and suites are equally modern, and even offer an in-room computer and high-speed Internet access free of charge. If you happen to bring your laptop, wireless Internet is also available. Superior guest rooms and suites offer glass showers and heated tile floors. Start your day with a latte or double espresso at the complimentary breakfast buffet. There is no pool, but a fitness room is on site. Located right off the Trans Canada Highway 20, this hotel is adjacent to the convention centre and its associated shops and restaurants.
Holiday Inn Express & Suites
This familiar hotel brand lays claim to the first "green" hotel to be certified by the Leadership in Energy and Environmental Design program in the province of Quebec. In addition to an avid recycling program, mattresses made from natural fibers and water-saving measures, the Holiday Inn at Saint-Hyacinthe also recycled the concrete from a dismantled bridge in part of its foundation. Even the walls in the indoor swimming pool area have sections covered in living, oxygen-producing plants. Rooms and suites all have wooden floors, flat-screen TVs and high-speed wireless Internet access. Breakfast is included in the room rate. The Holiday Inn is on the northeastern part of town off of Trans Canada Highway 20. It is part of the M Complex, an extended mall that includes restaurants, shops, businesses, a gas station and a bank.
Motel Bienvenue
On the southwestern edge of Saint-Hyacinthe, the eclectically furnished Motel Bienvenue welcomes guests to relax and spend the night. Built out, not up, the one-story property is reminiscent of the motels found along Route 66 in the 1950s and 1960s, down to the giant "motel" sign that can be seen for miles down the road. Guest rooms are individually furnished and each has its own personality. Pick room 25 and you will be surprised by the two-person hot tub surrounded by mirrors reflecting the bold purple walls. Microwave and kitchenettes are available in some rooms. TV, phone and mini-fridge, stocked with wine and beer, are found in all. As of this writing (2010), Internet service is not offered. The trade-off is that you can enjoy the peace and quiet of rural Quebec and still be less than four miles from the restaurants and shops of Saint-Hyacinthe's town core.
Photo Credits
Jupiterimages/Photos.com/Getty Images