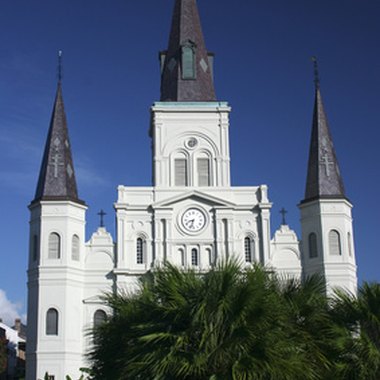 New Orleans is famous as the home of the French Quarter, Bourbon Street and its annual Mardi Gras parade. Right next to Bourbon Street is Royal Street, well known for its artsy flair, including antique stores, jewelry shops and art galleries. Royal Street is also home to several hotels, one of which is on the national historic register and another that has been featured in TV shows and movies.
For "Old Hickory"
Named for the man who protected New Orleans during the waning days of the War of 1812, the Andrew Jackson Hotel combines old New Orleans charm with modern features. The hotel is on the National Register of Historical Places and is on the location where Jackson was charged with obstruction of justice by a US attorney general named John Dick. Today the hotel features 22 rooms and suites, its own interior courtyard and a balcony that overlooks Royal Street. Decorated in 18th-century style, guests receive a complimentary breakfast, wireless Internet access, business services and concierge service. Plus, like all Royal Street lodging, it's a short walk to Bourbon Street.
A Holiday Option
The only national chain hotel option on Royal Street is the Holiday Inn New Orleans, close to the New Orleans Paddleboats and the Audubon Zoo. Guests have their choice or standard rooms or suites in the 20-floor hotel, but all rooms come with a workdesk and high-speed Internet access. Those who reserve a courtyard room have access to the hotel's ninth-floor courtyard. The Checkered Parrot restaurant and bar specializes in dishes inspired by the Key West region of Florida and features a full bar with televisions. Kids eat free at the Checkered Parrot. The hotel also has a fitness center and indoor pool for use year-around.
History on Royal
The Hotel Monteleone is listed on the Historic Hotels of America registry and serves as the gateway from Royal Street to the rest of the French Quarter, including the nearby Morval Convention Center. Antonio Monteleone founded the hotel in 1886, and it remains family-owned. The Monteleone is featured prominently the film "Double Jeopardy" and has served as on-location sites for the TV shows "Larry King Live" and "Southern Living Presents." The hotel, which now features more than 600 rooms, has undergone five major renovations in its history. The hotel has its own business center, fitness center, spa, restaurant, bar and space for meetings and weddings, some of which provide views of the Mississippi River.
The 9-0-5 Royal Hotel
The 9-0-5 Royal Hotel is named for its address, 905 Royal St. It is one of the smallest hotels on Royal, featuring just 10 rooms and three suites. But all three suites have balconies that overlook Royal. The hotel was built in the 1890s, and each room has a private entrance, private bath and kitchenette. The hotel was featured in a 2004 edition of National Geographic Traveler and has its own interior courtyard for guests only.