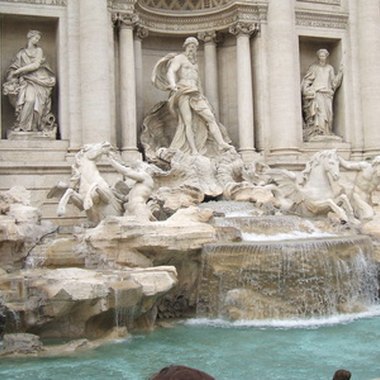 Perhaps best known to most Americans as the subject of a popular song and romantic film from the 1950s, Rome's Trevi Fountain sits in one of the Eternal City's most beautiful piazzas. The fountain's builder, Nicola Salvi, used as his inspiration a plan designed by Gian Lorenzo Bernini a century earlier. Visitors can find a handful of hotels within easy walking distance of the Fontana di Trevi, which is located in the Quirinale district of Rome.
Hotel Barocco
Overlooking the Piazza Barberini, this centrally located hotel's entrance lies on Via della Purificazione, one of the side streets flowing out of the piazza. Less than three-fourths of a mile from the Trevi Fountain, the Barocco is also close to the Spanish Steps and Rome's famed Via Veneto. Accommodations, which range from classic and superior hotel rooms to spacious suites, are located in the hotel's original building, which dates back several centuries, and a couple of annexes that immediately adjoin it.
Hotel Bolivar
Housed in a 19th-century building, this four-star hotel, less than one-fourth mile from the Trevi Fountain, provides vacationers with an ideal base from which to see all that Rome has to offer. Named for the crusading Venezuelan military leader who brought independence to much of South America, the hotel delivers almost all the comforts of home, as well as a parking garage (added charge) for those who are traveling by car. A lavish breakfast buffet (added charge) is served each morning, and the rooftop terrace offers striking views of the city. Guests may also choose to relax with a drink in the American Bar.
Hotel Julia
Just over half a mile from the Trevi Fountain, this three-star hotel puts guests within easy reach of other attractions, including the Spanish Steps, Via Veneto and the Piazza Barberini. Housed in an 19th-century palazzo, the cozy boutique hotel has 33 rooms and suites, all with high-speed Internet, which is also available in most of the hotel's common areas. The hotel serves a buffet in its breakfast room each morning, and a bar/lounge is located just off the lobby.
Hotel Nardizzi Americana
With its central location, only three-fourths of a mile from the Trevi Fountain, and its reasonable rates, this two-star hotel is a smart choice for budget-minded travelers. The rooms, which range in size from singles to quadruples, aren't fancy, but they're clean and comfortable. As is Italian tradition, the hotel serves a lavish breakfast buffet each morning for guests who need to fuel up before embarking on their sightseeing excursions.
Hotel Trevi
This 29-room, three-star hotel sits on "one of Rome's quaintest alleys," according to Fodor's. Its rooms tend to be somewhat on the small side, but they're clean and comfortable and a perfect retreat after a hard day of touring the city. One of the special joys of this boutique hotel is the rooftop terrace, where the hotel lays out the requisite breakfast buffet each morning. Even if you choose to skip breakfast, don't miss the stunning views of this part of ancient Rome.