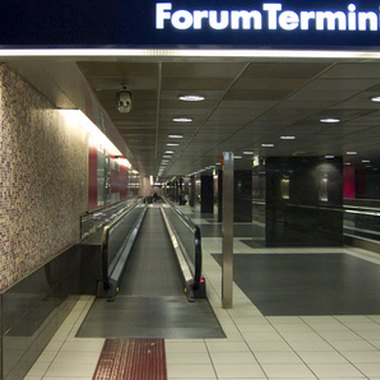 The undisputed hub for all ground transportation in Rome is Termini. Although noisy, crowded and bustling with travelers from the early morning until around midnight almost every day of the year, this iconic station is still a key location from which to base any tour of the Eternal City and its environs. Not surprisingly, the hotel industry has responded to Termini's strategic placement by filling the area with accommodations of all types and quality. Therefore, choosing the right lodging for your stay is critical.
Hotel Domus Praetoria
A two-star hotel that strives to exceed that rating is the Domus Praetoria, located only a few blocks from Termini on Via Milazzo. Owned by brothers, the hotel is hidden behind an almost anonymous and nondescript facade. The interior, however, is well maintained and intentionally more intimate and homelike than flashier hotels. A local street market opens early just outside the hotel's doors, and is a good place to shop for bargains.
Hotel Canada
Moving up the scale with a three-star rating is the Hotel Canada. Like the Domus Praetoria, the Canada is located in the Castro Pretorio district, a rather run-down but still relatively safe Roman neighborhood. Despite its location, the hotel has well-appointed rooms and open areas that attempt to restore the aesthetic sensibilities of the original palazzo it occupies. Many good restaurants sit nearby for lunch or dinner, but few equal the selection available on the hotel's bountiful breakfast buffet.
Mecenate Palace Hotel
Across the tracks, both literally and figuratively, is a slightly more affluent area of Rome graced by sites such as the Basilica of Santa Maria Maggiore. The four-star Mecenate Palace Hotel offers its guests beautiful views of both the nearby Basilica and other Roman attractions from its rooftop terrace. In addition to the normal amenities associated with a hotel in this class, the hotel is located near one of the largest enclaves for internationals in the city. Restaurants and shops specializing in Indian, Middle Eastern and other ethnic delicacies are tucked away along smaller streets in the area surrounding Piazza Vittorio Emanuele II just southeast of the hotel.
Hotel Exedra
Topping the classes with five stars is the Hotel Exedra. Apart from the luxurious accommodations and expected amenities, the hotel's location is one its major assets. The Exedra forms part of the surrounding architecture of the Piazza della Repubblica, along with famous neighbors such as the ruins of the Diocletian Baths and Michelangelo's Basilica degli Angeli. Additionally, just off the piazza is one of the city's best-used book markets, and in the nearby Galleria Esedra visitors come from all over to reward their taste buds at Dagnino, a Sicilian pastry shop and restaurant. A final bonus is that the hotel, although close to Termini, is adjacent to the Repubblica metro station, which connects directly to Rome's transportation hub.
Photo Credits
termini station image by maxthewildcat from Fotolia.com