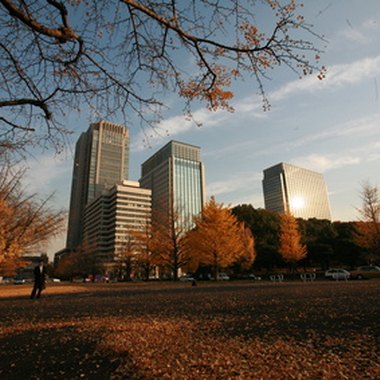 The majority of hotels in Tokyo contain more than just a standard bar and restaurant; many have over a dozen bars and restaurants serving cuisines from all over the world. Whether you're interested in a buffet, sushi, traditional Chinese cuisine or an American burger, you can likely find it downstairs from your room. A number of Tokyo hotels either house a very wide range of restaurants or offer very high-end dining experiences.
Hotel New Otani
With 38 restaurants and six bars on premises, the Hotel New Otani has been described by Frommer's as "a city unto itself." Restaurants here range from Western-style eateries to contemporary Chinese restaurants, and many have views of the hotel's central garden, a 400-year-old park filled with 10 acres of ponds, waterfalls and manicured greenery. All rooms come with large windows, contemporary black and gold furniture, high-speed Internet and flat screen TVs. "Fusui healing" rooms also have in-room humidifiers, foot baths and compact CD/MD players. Since rooms cost the same no matter where you're facing, be sure to request a garden view.
Hotel Okura
Long a favorite of visiting dignitaries, Hotel Okura has a worldly collection of 10 bars and eateries, including a coffee shop, a sushi bar, a French restaurant and a Scottish pub. Premium menu items include Dom Perignon, Kobe beef and oysters. Rooms have a contemporary Japanese motif, with shoji screens on the windows and kimonos for lounging. Some rooms on the fifth floor have balconies overlooking the garden and pool. Other features include a gym, salon, tea ceremony room and private museum showcasing Japanese art.
Imperial Hotel
The Imperial Hotel contains 12 restaurants, including four Japanese restaurants, two sushi bars, two French restaurants, a Japanese steak house, a large buffet restaurant and an American restaurant. There are also two bars and two lounges. Redesigned by Frank Lloyd Wright in 1922, the hotel offers many nods to the famous architect, including Wright-inspired furniture and an Art Deco bar. Many of the large rooms in the hotel have views of the Tokyo skyline, and all offer high-speed Internet and one-touch bedside controls for lamps, curtains and music.
The Ritz-Carleton
You can't beat the view from the restaurants at the Ritz-Carleton Tokyo, which occupies the upper floors of Tokyo's tallest skyscraper. Restaurants include a classic American grill, a French restaurant, two sushi bars and a cafe and deli for quick snacks. Rooms are some of the largest in Tokyo and come with wireless telephones you can take with you anywhere in the hotel. Large bathrooms with his and her vanities compose 30% of the total room space.