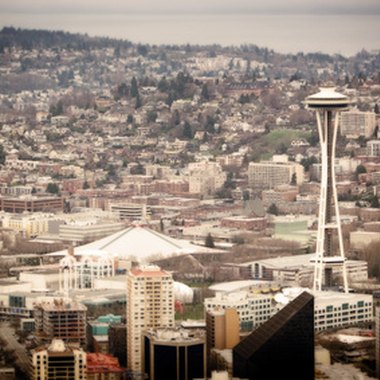 Washington forms the northwestern corner of the lower 48 states and is home to naturally beautiful surroundings that draw vacationers and weekenders in all seasons of the year. With snowy mountains during the cooler months, 157 miles of Pacific coastline to enjoy during the summer and a slew of recreational opportunities, the state truly has something for everyone. Hotels and resorts are scattered throughout the state, and many cater to guests with special interests.
Historic
Fans of history and Old World architecture will feel at home in the Fairmont Olympic Hotel. Listed on the National Register of Historic Places, this hotel opened in Seattle in 1924. Since then, it has become a go-to destination for weddings and civic events, and even serves as an attraction for Seattle tourists. The Fairmont houses 450 guestrooms that offer premium linens and amenities. Guests can choose among three dining settings at the hotel, including an outdoor terrace, an intimate pub-like restaurant and a ballroom-like dining room complete with chandeliers and Palladium windows.
Mountain Resort
Two mountain ranges in Washington State serve as year-round attractions for hikers, skiers, campers and off-road adventurers. The Sun Mountain Lodge is located in the midst of the Cascade Range facing east on 3,000 private acres. The area is home to the second largest cross country ski system in the country, as well as river rafting, fly fishing and canoeing in the Methow River and Moccasin Lake in Methow Valley. Indoors, the lodge's private spa provides hair and body services, and the dining room with panoramic mountain views serves breakfast, lunch and dinner. At the end of a long day, cozy guestrooms help travelers unwind with views of either the mountains or the valley, as well as hand-made furniture, original artwork and bathrobes. Some rooms also offer rock fireplaces and private decks.
Beach Resort
Much of the Washington coastline is undeveloped. However, the town of Ocean Shores offers both sand and surf on its beaches. The Quinault Beach Resort & Casino, located in Ocean Shores, features unlimited access to the beaches as well as coastal activities including boating, angling and swimming. During cooler months, guests can retreat indoors to the resort's heated swimming pool. Nightlife and entertainment abound at Quinault; live music is the norm at the Ocean Lounge, and the property's casino lets guests double down on their luck with poker, electronic games and table games. Resort rooms feature private fireplaces and access to complimentary high-speed Internet.
Golf Resorts
Washington State has many opportunities for both the casual and experienced golfer. Suncadia Resort is located on three 18-hole golf courses. Golfers can chip, putt and drive on greens that overlook the natural beauty of Washington's pine trees and mountain ridges. Families traveling with children can opt to golf the shorter loops available for expedient golf sessions. In addition to golf, Suncadia provides numerous outdoor recreational activities, including whitewater rafting and fly fishing, just steps away in the Cle Elum River, and seasonal ice skating at nearby Lake Park. A spa is also available on the property, and nearby Suncadia Village offers many shopping and dining opportunities.