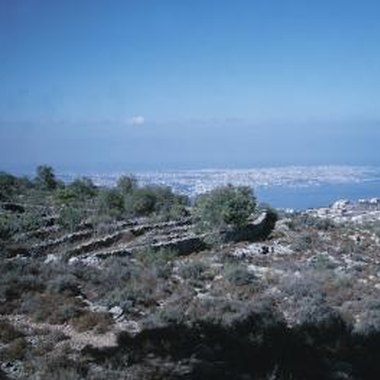 From the Four Seasons to water park resorts and comfortable mid-range hotels, Lebanon has a wide selection of accommodations for every traveler. The capitol city of Beirut is where you'll find the largest concentration of hotels. Beirut is also home to a large number of clubs, internationally renowned museums and swimming pools that rival anything in Miami.
Beirut Luxury Hotels
Beirut has been called "the Paris of the Middle East." It is rich in culture as well as having Lebanon's best collection of bars and restaurants. The recently opened Four Seasons Hotel was named one of the Hottest Hotels in 2010 by Conde Nast Traveler. All of the rooms feature balconies with Mediterranean views from the marina to the mountains, marble bathrooms, plush mattresses with top-quality linens and interior design by Pierre-Yves Rochon. Le Royal Hotel Beirut is another noteworthy upscale property perched on a towering hilltop overlooking the Mediterranean sea and featuring tennis courts, a solarium, a sauna and the Middle East's largest waterpark.
Beirut Mid-Range Hotels
Beirut also contains a number of attractive mid-range hotels for travelers on a budget. The Gefinor Rotana Hotel has a rooftop swimming pool, sauna, two bars and a restaurant. Many rooms have balconies with views of the entire city and range from $150 to $300 a night, as of November, 2010. Another option is Casa D'Or, which features large rooms with flat-screen TVs and an extensive continental breakfast. As of 2010, rooms at the Casa D'Or range from $99 to $240 per night.
Tripoli Hotels
Tripoli is Lebanon's second-largest city and the largest port in the North of the country. Sadly, it is most known for a 2007 battle between the Lebanese army and Palestinian militants, which left the city battle-scarred and led to an understandably large slump in tourism. There are still reasons to visit, though, and Tripoli offers accommodations for bargain hunters as well as luxury-seekers. Especially worth mentioning is the Quality Inn, featuring a fully equipped health club, Olympic-size indoor swimming pool, Turkish baths and large guest rooms. Via Mina, located on a quiet backstreet in Al Mina, has an Arabic-tiled lap pool, iron staircases, wireless Internet, bar and library.
Baalback Hotels
Baalback is the administrative capitol of Lebanon and also home to the largest collection of Roman remains in the Middle East. Every year, the city hosts the internationally known Baalbeck Arts Festival, drawing artists and musicians from around the world. The city has a handful of hotels, most of them historic. The Palmyra Hotel is especially noteworthy, called "one of the most wonderful colonial-era relics dotting the Middle East," by Lonely Planet. Most rooms in the original part of the hotel are ancient; newer and more expensive rooms are available in an attached wing.
Resources
Gefinor Rotana Clemenceau Street; P.O. Box 113-5202; Beirut, Lebanon; 961 013 71888
Palmyra Hotel; Rue abdel halim hajjar; Town Centre; Baalbek, Lebanon; 961 837 0230
Via Mina; Al-mina; Tripoli (trablous); Lebanon; 961 622 2227
Photo Credits
Hemera Technologies/Photos.com/Getty Images