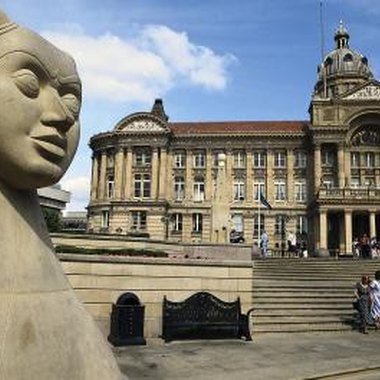 Like the ugly duckling that became a swan, the industrial city of Birmingham has, since the Millennium, shaken off its gritty past to become the glamorous retail and arts capital of the British Midlands. The Bullring has morphed from a 1960s eyesore to a huge mall with 1,000 city center stores under cover. The Jewellery Quarter, where die-stampers once churned out metal novelties, is now one of the best places in Britain for custom made jewelry. With its art museums, a symphony orchestra, a Royal Ballet company and a lively theater and club scene, Birmingham is now a top destination and has hotels to match.
Radisson Blu
The Scandinavian-owned Radisson Blu in Birmingham occupies the first 19 floors of 10 Holloway Circus, a 39-story blue glass tower that pierces the Birmingham sky like a lance and is the tallest residential building in the Midlands. Aimed primarily at business people, the hotel's 211 luxury rooms are styled to reflect a diverse range of visitors. Guests can choose minimalist "Chic" rooms, colorful "Fashion" rooms with custom made designer cushions, or more ornate "Fresh" rooms with touches of gilt and crystal. Baths have luxury underfloor heating.
Hyatt Regency Birmingham
One of Birmingham's most luxurious hotels, the Hyatt Regency is architecturally striking. A 24-story, sculptured slab of blue glass, the hotel is opposite the city's International Convention Centre (ICC), a major British venue. Though now in private ownership, this hotel was built through a partnership with the city of Birmingham, which contributed investment money and land. Rooms in this hotel are contemporary, without the cookie-cutter sameness of many modern hotels in this class. Floor-to-ceiling glass walls have either city or canal views. Guests can use the hotel's Amala Club and Spa which has a glamorous pool and gym.
Malmaison Birmingham
The British Malmaison hotel group chooses interesting, city center buildings and recycles them into luxury hotels. In Birmingham, it's a former postal sorting office that was originally designed to loosely resemble the traditional British red pillar box-style mailbox. It's the anchor of a luxury, canal-side shopping center known as The Mailbox, which is also the location of the British Broadcasting Company's Birmingham studios. Rooms in this hotel are true to the Malmaison's upscale style, with dark laquered wood, rich velour fabrics, low lighting and sensuous toiletries. The hotel's bar is a hip Birmingham meeting place.
Hotel du Vin
The Hotel du Vin group is another small British company that emphasizes sensitive conversions of city center buildings to distinctive hotels. The Birmingham Hotel du Vin is the company's largest, in a disused red brick, Victorian eye hospital. The hotel is in one of Birmingham's exciting, post Millennial neighborhoods, The Jewellery Quarter, which has become a district of hip loft living, stylish restaurants, shops and bars. The hotel has 66 contemporary bedrooms. A hotel trademark is the bistro's extensive, eclectic wine list.
Photo Credits
Hemera Technologies/Photos.com/Getty Images