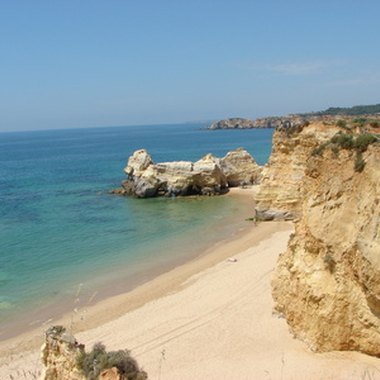 Situated on the south coast of Portugal in the Algarve, Portimao offers those who choose to stay there the same sunny climate as the rest of the region alongside an authentically Portuguese experience. Instead of being an overdeveloped beach resort like so many other towns in the Algarve, Portimao is still very much a working fishing port with a life completely separate from tourism.
Considerations
Portimao is set on the Arade River, about a mile and a half north of the coast. Most of the hotels in the area are concentrated on the beaches of Praia da Rocha and Praia dos Tres Irmaos, with very few accommodation options in the town itself. Between the poor choices in town and the fact that the main attraction of the Algarve is the beach, Portimao should serve more as a backdrop and a place to go out to eat rather than a place to look for accommodations.
Hotel Globo
For those who wish to stay in Portimao, Rough Guides described the Hotel Golbo as one of the city's most modern and better-valued options. Situated between Igreja da N.S. Conceicao and the city's main river-front plaza, which boasts a row of inexpensive seafood restaurants, the hotel itself is appointed in a mid-range, Euro-modern style and has a rooftop bar and restaurant with a panoramic view of the river.
Algarve Hotel Casino
Located in the center of Praia da Rocha, this hotel received top marks from Frommer's, which described it as the leading hotel in the area. Perched atop a cliff overlooking the beach, the rooms feature ornate tile floors, colored ceilings, indirect lighting and somewhat Moorish appointments, and many have terraces with sea views. If the hotel's own restaurants become tiresome, across the road are an Italian restaurant and a traditional Portuguese seafood place.
Casa Tres Palmeiras
A less expensive alternative to the Casino that retains the same clifftop views is the Casa Tres Palmeiras. Set in a converted 1960s villa, the hotel retains much of its period chic as the glass-paneled rooms bend around the swimming pool terrace. The rooms are furnished in a Portuguese style in a tasteful, mid-range fashion. Off-season travelers face one drawback, however, in that the hotel closes in December and January.
References
Rough Guide to Portugal; Jules Brown, Mark Ellingham, John Fisher, Matthew Hancock and Graham Kenyon; April 2007.