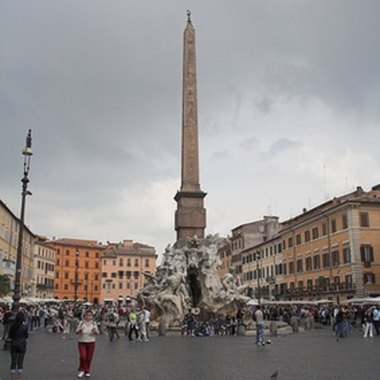 One place you shouldn't miss while visiting Rome is the Piazza Novona. The piazza's history dates back to the 1st century AD when it housed a stadium used for horse racing. According to the Italian Government Tourist Board, popes flooded the piazza in the Middle Ages for festivals. Today, you can see a 1651 fountain created by Giovanni Lorenzo and the 15th-century Palazzo della Cancelleria. Nearly all of the area's hotels have historic character that dates back hundreds of years, with examples of Rome's history on their doorsteps.
Hotel Teatro Pace
Located a short walk west of Piazza Novona, the Hotel Teatro Pace resides in a building with over 400 years of history. During the 1600s, the Vatican Holy See cardinal called this building home. Today the hotel retains much of its old world features amongst its hallways and 23 guest rooms. Special features that make the Hotel Teatro Pace stand out include its parquet wood floor throughout, wood beamed ceilings and breakfast served in your room at the time you choose. Some rooms also have balconies, providing guests with views of Rome.
Hotel Navona
Just east of the southern end of Piazza Novona, you will find the Hotel Novona situated in a 15th-century palace. If you take a short walk east of the hotel, you will find another of Rome's most famous landmarks, the Pantheon. Despite the current building's 500 years of history, the site it stands on has much lengthier story. Beneath the hotel sit the Baths of Agrippa from the 1st century BC. Inside the hotel guests can walk through time, viewing artifacts as old as 2,000 years, exposed bricks from the original palace, frescos from the 16th century and antique furniture. Modern perks of the hotel include free Wi-Fi and help with organizing tours of Rome
Hotel Raphael
The five-star Hotel Raphael doesn't differ much from a museum, except that it also has comfortable furnishings and features, including velvet, leather, wood paneling and warm colors. Guest rooms combine a mixture of old style decor with modern amenities, or have a thoroughly modern look. On arrival at the hotel guests are treated to a drink and a welcome surprise in their room. Throughout the hotel you can explore historic Mayan artifacts, sculptures, paintings and even view ceramics created by Picasso himself. If you don't feel like strolling to Piazza Navona for your dinner, you can dine on the hotel's roof terrace overlooking the city.
Hotel Genio
The four star Hotel Genio sits just north of Piazza Navona. Rooms have all the modern amenities necessary for a comfortable stay with sophisticated, traditional furnishing, such as wooden wardrobes. Services that make this hotel stand out include multilingual staff, arranging tickets for tours, theater performances, or museum visits of your choice and a car service. Room rates include a buffet breakfast that you can enjoy inside the hotel or on the roof terrace overlooking Rome.
Resources
Hotel Teatro Pace; Via del Teatro Pace 33,00186 Roma; 011-06-687-9075
Hotel Navona; Via dei Sediari 8, 00186 Rome; 011-06-6830-1252
Raphael Hotel; Largo Febo 2, 00186 Rome; 011-06-682-831
Photo Credits
rome - piazza di navona image by Mirek Hejnicki from Fotolia.com