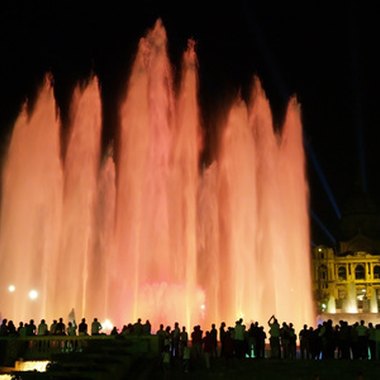 The area in and around Barcelona's Plaça d'Espagna (also rendered as Espanya) offers visitors a broad selection of hotels. Accommodations near the sprawling plaza, which lies close to the heart of the Spanish city, range from intimate boutique hotels to much larger hostelries that are operated by some of Europe's most popular hotel chains. Visitors should have no trouble finding accommodations to suit virtually any taste and budget.
AC Vilamari
Less than 0.2 mile from the Plaça d'Espagna, this 90-room hotel is part of the AC chain, which operates properties throughout Italy, Portugal and Spain. Also nearby are the Joan Miró Museum, the Fira de Barcelona exhibition center and the National Art Museum of Catalonia. All rooms and suites feature fully stocked mini-bars and wireless Internet access. The Vilamari's restaurant, presided over by chef Vanessa Alfonso, specializes in regional cuisine that reflects a blend of both traditional and modern culinary influences. A full-service fitness center, featuring a Turkish bath, is open to guests from 7 a.m. to 11 p.m. daily.
Ayre Hotel Gran Vía
This sleekly contemporary hotel has 189 guest rooms and suites, and lies less than 650 feet from the Plaça d'Espagna. The nearby park that encompasses Montjuic contains multiple structures and attractions that were built for the 1929 International Exposition and the 1992 Olympic games. Popular with business travelers, the Gran Vía offers a wide range of business services, as well as meeting rooms of varying sizes, and is only a short walk from Barcelona's Trade Fair Center. Wireless Internet access is available in all of the hotel's rooms and common areas. Just off the spacious central lobby, the Gran Vía's restaurant specializes in Mediterranean cuisine.
Hotel Fira Palace
A popular choice for families with young children and business travelers, this sprawling 276-unit hotel is only a short walk from the Plaça d'Espagna. Enhancing its appeal for family groups is the spaciousness of the hotel's rooms and suites, all of which feature bathrooms finished in Italian marble. Frommer's describes the hotel's two restaurants -- L'Aria and El Mall -- as "first-rate" but a little on the pricey side. Guests who want to stay active can take advantage of the hotel's well-equipped fitness center or swim a few laps in the indoor pool. Meeting rooms and a wide array of business services, including audio-visual equipment, are available for business travelers.
Vincci Arena
Close to Barcelona's main railway station and less than 0.2 mile from the Plaça d'Espagna, the Vincci Arena has 84 rooms and suites, many of which offer spectacular views of Montjuic. Starkly modern throughout, the hotel avoids the coldness that such design sometimes evokes by the strategic use of warm colors. A breakfast buffet is available each morning, and guests who'd like a cool drink or snack can find what they want at the Terrace Bar or order from the room service menu. The hotel also offers a full-service health club.
Photo Credits
montjuic (magic) fountain in barcelona at night image by Gary from Fotolia.com