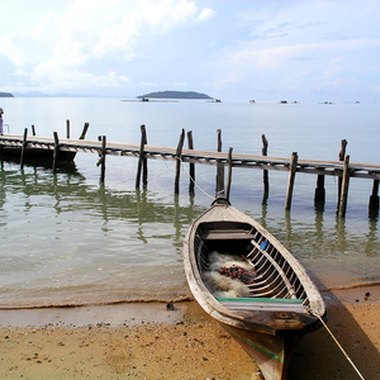 Described by Lonely Planet as Thailand's "largest and most popular island," Phuket is a place of clear blue waters, scenic limestone sea cliffs, beaches and palm trees. Most visitors to Phuket choose to stay in a resort right on one of the island's many beaches, but there are other options. The hotels located in Phuket Town have certain advantages, however much these are overlooked.
Getting Around
Getting to the beach from Phuket Town is a simple matter, as the transportation options in Phuket are bigger than in the rest of the country. Songtaews (public transport) depart from the center of town out to the beaches regularly, but instead of being converted pick-up trucks as in the rest of Thailand, in Phuket these are full-scale buses. Tuk-tuks are bigger too, with most having four wheels instead of three. Trips take 20 to 45 minutes, depending on which beach is the destination.
Considerations
The main advantage of staying in Phuket Town is the lack touts and scam artists. Tourists on the streets of Phuket Town are left alone for the most part, so staying in the town offers an escape from the persistent hassling that takes place on and around all of Phuket's beaches. The town also has its own peculiar attractions, such as the stately Sino-Portuguese mansions of Old Phuket and the lively night market.
Royal Phuket City Hotel
Of the hotel options in Phuket Town, the Royal Phuket City is the one Frommer's liked the most, giving it a "Very Highly Recommended" rating and calling it "surprisingly cosmopolitan." The Royal Phuket City is the hotel in town that most resembles the sort of high-rise, mid-to-upscale hotel one might expect to see in a major Western city, and is conjoined with a major city shopping center. Business travelers in Phuket might appreciate the professional business center and expansive meeting facilities.
Thavorn Grand Plaza Hotel
The Thavorn caters to a wide variety of visitors by offering dormitory accommodations as well as private rooms, thereby accommodating both backpackers and mid-range travelers in a hotel with solid mid-range amenities. Included among those is the free hotel shuttle bus to Karon Beach, bypassing the need to take a songtaew. The hotel is also less than a 10 minute walk from the main bus station. Visitors looking for a break from Thai food should try Salavatore's, an Italian restaurant complete with red checkered tablecloths located in the same neighborhood.
Photo Credits
barque à phuket image by Thierry GUIMBERT from Fotolia.com